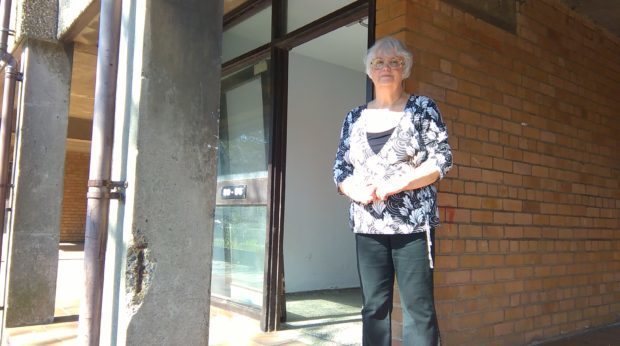 A Kirkcaldy council tenant blames right to buy legislation for the deterioration of her flats complex.
Cecelia Proctor, 76, said repairs at the Nicol Street buildings were not being done because some flats were council owned and others were privately owned.
"The whole complex is run down," she said.
"The problem started when the council sold off the houses and people bought their properties.
"A lot of people sold them to people who wanted to let them out. Now there are tenants who are here for a few months and then gone."
Fife Council has said it will inspect the complex for defects and said essential repairs are carried out by the local authority with the costs recovered later.
Mrs Proctor said the whole building used to be run by the local authority and was well maintained at the time.
But she said the mix of council and private properties had led to the deterioration of the block.
Among the defects at the four storey buildings are a missing door to a close, an eroded support pillar and peeling paint.
Mrs Proctor said basic upkeep such as sweeping leaves and weeding the courtyard, and cleaning bin chutes, was also not being done.
"What Fife Council should have done was explain to people who were buying a property that they would have to maintain the property not just inside but outside," she added.
Council lead officer Paul Cairns said: "Where there are owners and tenants within a block there is a joint responsibility to maintain communal areas.
"If repairs need to be carried out within communal areas Fife Council will contact the owners with a cost and seek their agreement prior to works being carried out.
"Majority agreement would be required before we were able to proceed with general refurbishment. However, any essential works would be carried out by us and the costs recovered from owners.
"We were not aware of any issues in this particular block but we will inspect the property and see what may be required."