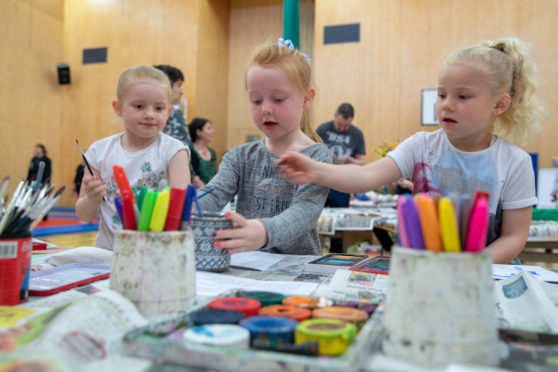 The first Kelty Creatives event has been an "amazing success", according to organisers.
Around 500 people took part in the Kelty Art and Regeneration Trust day and secretary Carol Gilmour said the feedback had been entirely positive.
One of the aims of the day, which attracted funding from the Coalfields Regeneration Trust, was to launch phase two of the Kelty Street Art project, through which the group aims to brighten up and revitalise Kelty Main Street.
This follows the success of the first phase which saw members paint huge murals to brighten up Blackhall Square.
Carol said: "We used the opportunity to begin to create the very first piece of public art in the Main Street, aptly named All Hands on Deck which features the handprints of local people on the fencing surrounding the recycling facility at Kelty Community Centre. We hope this will also encourage people to recycle.
Phase two has been given initial funding by Cowdenbeath area committee.
Carol said several arts projects have been planned, which will be completed over the summer months. All the designs and work will be carried out by local artists and volunteers.
She said: "The projects include plans to revitalise shop frontages and premises using unique artwork, as well as some striking artwork on gable ends in the Main Street, with the hope that these provide a visual and talking point, and encourage more people to shop local and to support businesses in Kelty."
Carol added the group wanted to thank the people who supported it and all the groups and individuals who took part.
"The atmosphere and energy throughout was incredible and we were very proud to have the opportunity to host the event and to have everyone along.
"Our very first Kelty Creatives Event managed to capture the spirit of community and to let everyone know about the amazing creative activities which go on in our wee village, and to encourage more people to become involved."
The other reason for holding the event was to bring together as many creative individuals and groups to thank the community for their support and celebrate and share the diversity of local talent.