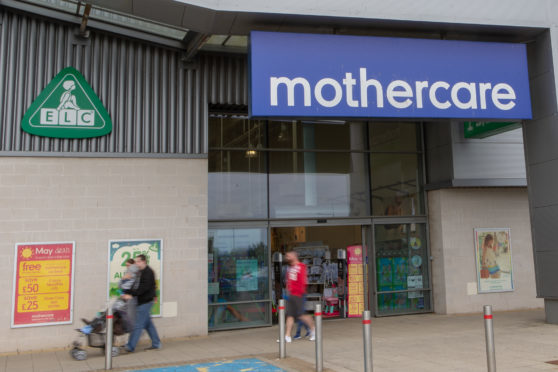 Mystery surrounds the future of Kirkcaldy's Mothercare outlet after it was featured on a leaked list of stores earmarked for closure.
Fears are growing that the Lang Toun is set to lose another big name after a memo was published on social media appearing to name 49 branches set for the chop over the coming months.
Kirkcaldy's Fife Central Retail Park unit was one of four Scottish shops listed for closure over the next 12 months.
Inverness, Fort Kinnaird and Coatbridge are also on the document highlighted by property consultancy Ditchfield Property on Twitter.
Mothercare has refused to confirm the legitimacy of the memo. The firm said it would not discuss which stores will shut until all staff have been informed.
If confirmed, the loss of Mothercare would be a huge setback to the town and to the Fife Central Retail Park in particular, after the recent closure of the Toys R Us branch.
The Courier understands retail park owners Hammerson are still in talks with Mothercare over the store's future.
A spokesperson for Hammerson said it could not comment on the situation until an official announcement has been made by Mothercare.
The company, which employs around 3,000 people across 137 UK outlets, revealed last week it was entering into a company voluntary arrangement (CVA), under which 50 stores will close.
Mothercare said it would not discuss individual branches at present. However, chairman Clive Whiley admitted the recent financial performance of the business, coupled with a legacy of loss-making stores, had resulted in an "unsustainable situation".
A Mothercare spokesperson said: "We can't comment on individual store closures until all staff have been informed, which is our absolute priority.
"Of course we regret having to close stores and the impact this will have on colleagues. However, we had no alternative to executing a CVA.
"The business was in an unsustainable situation and was in clear need of an appropriate resolution and today's comprehensive measures provide a renewed and stable financial structure for the business, and will allow Mothercare to accelerate its adaptation to the shifting dynamic towards online."
Lesley Laird, MP for Kirkcaldy and Cowdenbeath, described last week's developments as "very disappointing" and said her thoughts were with staff facing an "anxious wait" to see if their jobs are affected.
She added: "The closure of this store would be a blow to Kirkcaldy, and Fife Central Retail Park, coming hard on the heels of the closure of the Toys R Us right next door."