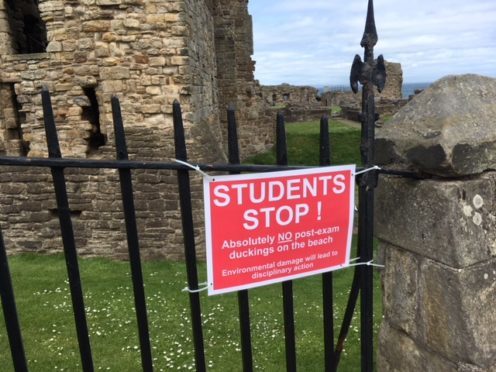 Students from St Andrews University have been warned to stop using local beaches for post-exam parties – or face the prospect of disciplinary action.
The Courier revealed earlier this week how others' enjoyment of the Fife town has recently been marred by the actions of people – largely believed to be students celebrating the end of semester, but not exclusively – leaving piles of litter and debris behind them on the coastline.
The mess left behind by students taking part in the tradition of 'ducking' or 'dunking' – which sees those in their final year covered with flour, beans, glitter, eggs and alcohol before taking a quick dip in the sea to wash the material off – prompted Fife Coast and Countryside Trust to write to the university.
In turn, Professor Lorna Milne, proctor and vice-principal of the university, emailed all students to remind them of their responsibilities and urged them to clean up after themselves.
However, signs have been erected by the university's estates team at Castle Sands calling on students not to use the beach for post-exam celebrations at all – or face serious consequences.
The university has assisted with the clean-up operation this week after broken glass, rubbish, cans, plastic and even a tent was left on the beach following bonfires, and it is hoped the latest warnings will deter people from marking the end of semester inappropriately in the sunny conditions forecast.
Local councillor Brian Thomson commended the approach taken by the university in relation to the latest problems.
"Given its secluded and sheltered nature, the Castle Sands has long been a popular spot for beach parties, although the most recent mess has been about as bad as I've seen," he said.
"Whilst it would appear that this particular mess has mainly been the result of some students' end of semester celebrations, it needs to be emphasised that those participating were only a tiny proportion of the students who study and live in the town.
"Also, given that the debris from parties is often evident throughout the summer months, the problem is clearly not just the result of students' parties.
"The university's swift response, of writing to all St Andrews students, and offering to assist the Fife Coast and Countryside Trust with the clean up, is to be commended and – whilst a lack of resources is an issue – maybe a review of what measures public agencies can take to better monitor the area, particularly during the summer months, needs to be carried out."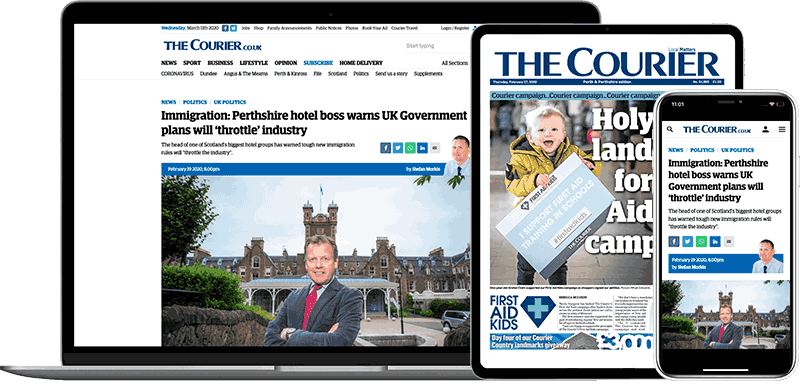 Help support quality local journalism … become a digital subscriber to The Courier
For as little as £5.99 a month you can access all of our content, including Premium articles.
Subscribe