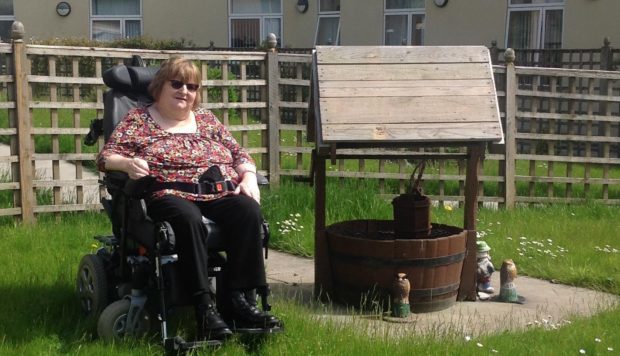 A terminally ill woman is pleading to be allowed to return home after being forced to stay in hospital for more than a year.
Anne Gourlay, 57, was diagnosed with sepsis and chronic lymphatic leukaemia six years ago and until last year she was cared for at her home in Newport-on-Tay thanks to a 24/7 nursing care package provided by an agency.
In more recent times her cancer has worsened and medical staff told her neither palliative radiotherapy or chemotherapy is appropriate.
After being admitted to Dundee's Ninewells Hospital in April last year, Ms Gourlay was dealt another blow a few months later when her nursing package was axed, preventing her from returning home, and she was then moved to Cupar's Adamson Hospital in January this year after a battle to get home for Christmas failed.
There she was told the maximum amount of care she could receive from the existing care team would be 15 hours per week and that the shortfall could be made up by another agency.
However, due to recruitment issues it has so far failed to find anyone to help – making living at home impossible.
Ms Gourlay, a law graduate, said: "I have been in hospital for over a year and am desperate to get home.
"I was all set to return when my 24/7 care package was stopped and now those providing it have gone to help other people and there are issues recruiting more nursing staff to help me.
"A solution would be to send me home with the existing agency and allow time to recruit the staff while I'm at home.
"This would immediately free this hospital bed for a patient who needs it and I could be at home enjoying life outside of hospital.
"Time is not on my side, so every day is a gift."
Her case has been picked up by North East Fife SNP MP Stephen Gethins, who is fully supportive of his constituent's efforts to return home.
"Ms Gourlay deserves the dignity of being allowed home where she will have some independence and control of her life," he added.
"She is not someone who wants to be taking up a hospital bed and it is important that a solution can be found to this situation as soon as possible."
Julie Paterson, Fife health and social care partnership divisional manager, said the partnership is "committed" to working with Ms Gourlay – but confirmed no agreement on her returning home had been reached as yet.
"There have been ongoing discussions regarding the various options available to support Ms Gourlay to leave hospital," she commented.
"Every effort is being made to support Ms Gourlay, respecting her individual choices regarding options available whilst also taking into account her complex needs.
"These efforts are continuing in order to identify a solution which maximises Ms Gourlay's independence and quality of life."