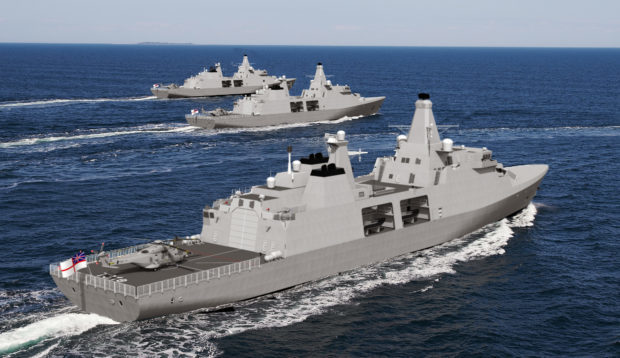 Fife workers will help assemble the Ministry of Defence's new £1.25 billion frigates if a new design is selected.
A team led by Babcock, which has a marine engineering yard at Rosyth, has unveiled its proposal for the Type 31e general purpose light frigate programme.
Team 31, also involving fellow industry experts Thale, OMT, BMT, Harland and Wolf and Ferguson Marine, said their Arrowhead 140 design could be developed to meet global requirements.
Other companies have launched competing designs for the contract to build five of the vessels.
Craig Lockhart, Babcock's managing director, naval marine, said: "Arrowhead 140 is a proven, capable and adaptable general purpose frigate design that, if selected, will meet the UK Royal Navy's and global customers' expectations both now and in the future."
He said the ship was easier to design, build and maintain than others due to its slightly larger size.
"When you consider that this ship can be delivered at no extra cost and that it will support improved radar performance, increase platform stability and facilitate better helicopter operations in bad weather, whilst enhancing crew comfort, we believe it will bring a significant edge to modern naval capability," he added.
It would be created at Babcock's yards in Rosyth and Appledore in Devon, as well as at Ferguson Marine on the Clyde and Harland and Wolff in Belfast.
Mr Lockhart said the approach of assembling on different sites ensured capacity for parallel programmes and supported the National Shipbuilding Strategy.
"Individually all of the Babcock Team 31 members have exceptionally strong portfolios of activity and collectively we are able to introduce to the market Arrowhead 140, a general purpose light frigate package that we believe is second to none."
Babcock Rosyth has one of the largest waterside manufacturing and repair facilities in the UK.
Significant site investment in recent years means it can support both naval and commercial work and is regarded as one of the most modern, capable and competitive facilities in the country.
A 10-year programme of works for the Ministry of Defence came to an end in November when the yard launched the HMS Queen Elizabeth and HMS Prince of Wales aircraft carriers.