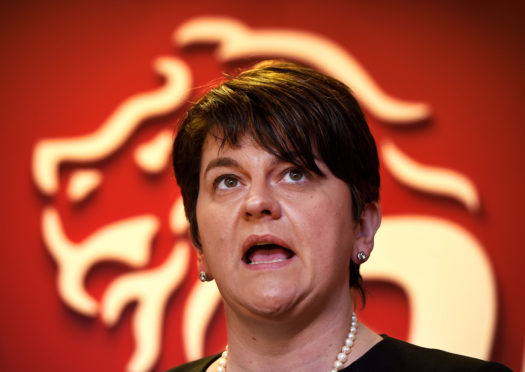 A major Orange Order parade is to take place in Fife later this month – with the leader of the unionist party propping up Theresa May's government expected to lead the march.
Democratic Unionist Party chief Arlene Foster has been revealed as the star guest at the Boyne Demonstration in Cowdenbeath on Saturday June 30, and many expect the controversial figure to use the visit to Scotland to challenge First Minister Nicola Sturgeon over a potential second independence vote.
Ms Foster's appearance is sure to shine a spotlight on Fife on the weekend in question, with the DUP leader likely to be in Scotland from the Friday until the Sunday.
The event has been organised by the Country Grand Lodge of the East of Scotland, which described Ms Foster's attendance at the parade as a "major coup", and Police Scotland are understood to be planning to beef up security for the high profile march.
Robert McLean, executive officer at The Grand Orange Lodge of Scotland, said: "Arlene Foster is the guest speaker and will be at the front of the parade.
"She will be the main speaker on the platform."
Mr McLean said it was "not unusual" for DUP politicians to "come over the water".
He added that former Northern Ireland First Minister Peter Robinson, the DUP leader between 2008 and 2015, attended an Orange Order event in Ayrshire when he was leading the party.
A DUP spokesperson said: "We can confirm that DUP leader Arlene Foster has been invited to attend an event by Grand Orange Lodge of Scotland. This event is due to have representatives of the Orange Order from Northern Ireland and Scotland."