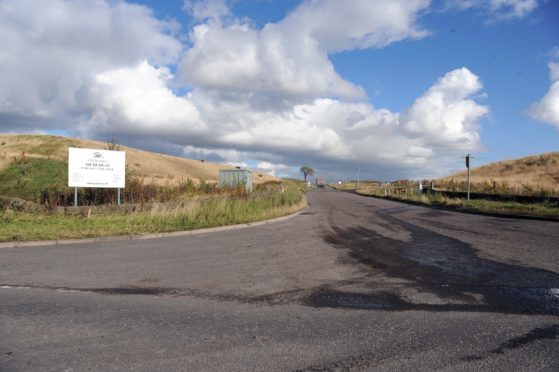 Complaints about a foul smelling odour emanating from a former opencast site in Fife are still flooding in to the council but the local authority has stressed there is not much more it can do about the issue.
Fife Council and the Scottish Environment Protection Agency (SEPA) have been contacted by scores of angry residents about the sickening stench in the Dunfermline area, which began last week and ruined the Bank Holiday weekend for many.
The nasty smell was caused by the spreading of lime cake fertiliser on fields on the Muir Dean site in Crossgates.
While council environmental chiefs acknowledge it has been "extremely difficult" for people wishing to make the most of the good weather, they stressed no laws have been broken by the landowner.
A spokesperson for Fife Council said: "The odour is coming from 1,000 tonnes of limed distillery waste which was spread on the land on Wednesday and Thursday of last week.
"Although the landowner harrowed the site shortly after the application of the waste, odour has continued to cause problems in the area. No material has been spread since last Thursday.
"Unfortunately once this type of very odorous material is spread on land there is very little that can be done to reduce the odours.
"Generally odours of this nature will dissipate over a couple of days but due to the present weather conditions this has not happened."
The council added there is a code of practice advising landowners spreading odorous materials should not be a "bad neighbour" by spreading close to domestic or public buildings, at weekends or public holidays or when the wind direction is towards public/residential areas.
However, that is not legally enforceable, leaving the council effectively powerless.
"Unfortunately the guidelines were not followed by the landowner but no laws were broken that Fife Council can enforce," the spokesperson added.
"Fife Council sympathises with those that have been affected and is doing everything it legally can to prevent this happening again at this location.
"Fife Council will be taking legal action against the landowner so that if this landowner causes a problem of this nature in the future at this site they will be committing an offence and a report may be submitted to the procurator fiscal."
The issue has also been raised at Holyrood by Mark Ruskell, Green MSP for Mid Scotland and Fife, who said the incident had raised question marks over who exactly is responsible for dealing with pollution incidents.
Mr Ruskell said: "We received a flurry of complaints from local residents last week who were left feeling sick and hiding in doors because of the disgusting smell.
"It ruined the bank holiday weekend for many people, and I'm pleased to see Fife Council are now taking action and serving notice on the site owners.
"When I raised the issue with Sepa however, I was told Fife Council were responsible – only to receive an email from Fife Council saying this was a Sepa issue.
"If a local MSP can't get a straight answer on this I can only imagine how residents must be feeling.
"The Scottish Government are drafting up new regulations for authorising environmental issues such as disposing of waste, so I've made it clear to the environment secretary that we need a straightforward way for people to report incidents and get a quick and satisfactory response."