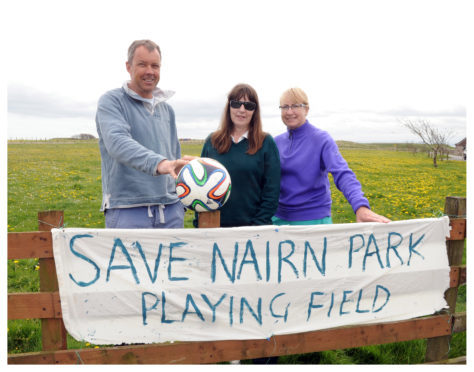 Fears have been raised over the future of play areas for children in Elie after a community football pitch was handed back to landowners.
The plot of land, located on the eastern side of the village, was rented by Fife Council and offered to the local community to use for ball games.
But questions have now been raised over the lease renewal prompting fears that there will be no football pitch left in the town.
Angus Meldrum, treasurer for the Elie and The Royal Burgh of Earlsferry Community Council, said residents now fear the land will be built upon leaving nowhere for children to play.
He said: "About 18 months ago, Fife Council decided they were going to give the football pitch back to the landowner and they were not going to maintain the grass anymore.
"They then rescinded that and took control back but in the last two months they've now decided to chuck it back at Elie Estates, who own the plot.
"There is a development site just on the edge of the pitch and the current plans by Elie Estates show that they want to develop it along with the other area.
"About twenty years ago, the local community fought quite hard to get somewhere for the kids to play football because they were playing on a very small patch of grass in amongst houses.
"There was a lot of problems with the ball going across the road and things like that. But now Fife Council have decided they can't afford to keep it anymore.
"The pitch has now not been cut all year so it's starting to become ankle high and it's full of dandelions and the kids are still playing on it."
A spokesperson for the Elie Estate Trust said they "regret" Fife Council's decision to terminate the lease which has been in place since 1995.
But they also told of development plans to create a new, bigger public space nearby.
They said: "The development plans propose 3.5 acres of public open space which compares to the existing area of only 2.8 acres.
"The trustees look forward to working with the community in relation to the facilities that the new recreation park will provide and an alternative use for the existing open space."
John Rodigan, Environment and Building Services Senior Manager said: "Fife Council is in negotiations to renew its lease for Nairn Park.
"A long-term lease expired in 2014, but was automatically renewed when neither party took any action to terminate it as is required by Scots law.
"Although notice was served to formally terminate the lease in 2016, we have since been in discussions with the land owners, Elie Estate Trust, to continue the lease.
"At present the Council occupies the land under an annual lease.
"We haven't yet decided whether we will stop or renew the lease next year. We are reviewing the costs and value of everything we do.
"Our decisions will be guided by the priorities in the local community plan, which is currently being refreshed in line with the new Plan for Fife."