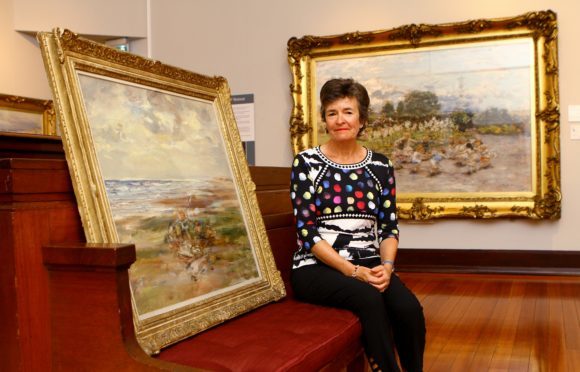 Kirkcaldy Galleries has been presented with one of the most significant donations to its art collection in recent years.
The family of late Edinburgh woman Marjorie Gemmell Hunter have handed over a beautiful oil painting by William McTaggart, one of the country's most respected artists.
The work is called Carnoustie Bay and depicts three children on a beach on Scotland's east coast.
It will be unveiled next month to coincide with the Open golf championship teeing off in the Angus town.
Although McTaggart was born in the Mull of Kintyre and lived in Midlothian, he was drawn to Carnoustie from 1872 and especially enjoyed creating new work there.
Mrs Hunter's daughter Claire Hunter Chow was in Kirkcaldy on Monday to present the picture and said the Galleries was the perfect place for it given her family's connection to Fife.
"The painting originally belonged to my grandmother, who lived in Buckhaven," she said.
"It had been hanging in my flat in Edinburgh where nobody could see it.
"It's better here where everyone can enjoy it."
Carnoustie Bay is the 33rd McTaggart to be acquired by the Galleries and will hang in a room devoted to his paintings.
A number of the others came from the collection of Kirkcaldy linen manufacturer John W Blyth, the grandfather of former Conservative politician Michael Portillo.
Gavin Grant, Kirkcaldy Galleries' collections team leader, said: "We are planning to put Carnoustie Bay on show for the first time to the public in Kirkcaldy in July, which is an appropriate time given that golfers will be teeing off that month in the Open.
"I am sure our visitors, both regulars and first timers, will love to see this 'new' McTaggart work on display."
Heather Stuart, chief executive of Fife Cultural Trust, which operates the Galleries on behalf of Fife Council, described the gift as "wonderful and very generous".
"We are very grateful to be able to add it to the museum collection so we can display and preserve it for future generations to enjoy.
"We already have a fantastic group of McTaggart works, many of them acquired from the collection of local linen manufacturer John Blyth in the 1960s, and we are delighted to have the opportunity to collect another."