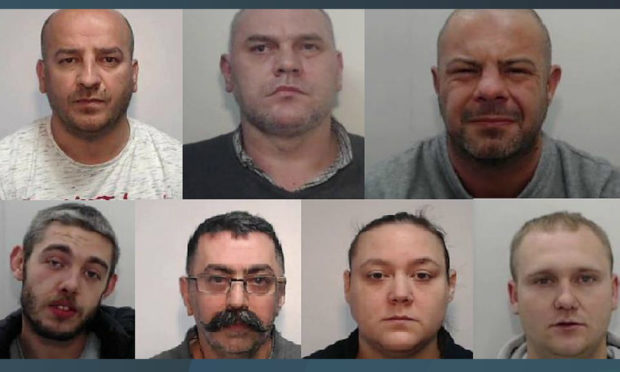 A Fife man has been jailed for 18 years after police busted a £63 million heroin shipment.
"Logistics" man Brian Kennedy, 37, from Leven, was drafted in by a gang to import the drugs through his company Freight Forward Ltd.
He and drug lord Fikri Yarasir were exposed, along with five other associates, by covert officers who seized 210 kilograms of high purity heroin concealed in furniture at an industrial unit in Salford.
The haul was Greater Manchester Police's largest-ever recovery of heroin.
It was discovered following a surveillance operation by officers which led them to a side room in the unattended industrial unit.
Forty-two tables were taken apart and found to contain bags of class-A drugs in the voids between the top and underside.
After his arrest Kennedy's  freight business was found to have just one customer – Yarasir.
Financial checks showed large amounts of money moving through the bank account of Kathryn Fearon to Freight Forward Ltd over several months, linked to imports for Yarasir.
Fearon and her partner Paul Livesey were used as mules to transport money to Turkey on behalf of Yarasir, who was jailed for 10 years in 1997 for importing heroin to Germany.
Kennedy, of Gallacher Avenue, was jailed this week after being convicted of conspiracy to import class-A drugs.
Fearon and Livesey were sentenced to 15 years and nine years respectively for the same offence.
Yarasir, 53, was jailed for 25 years for conspiracy to import and supply class-A drugs.
David Mulligan and Steven Hindley were found guilty of conspiracy to supply and were Ahmet Taskin was sentenced to 13-and-a-half years in prison after being found guilty of conspiracy to import and supply heroin.
Following sentence, Detective Inspector Lee Griffin of Greater Manchester Police's serious and organised crime group, said: "The lengths this group went to to try and conceal the drugs, cover their tracks and evade police capture would have been impressive had they not failed at simple hurdles like leaving fingerprints and traceable bank transfers.
"Drugs, in particular heroin, have a detrimental effect on the communities that the majority of people work hard to uphold and ruin the lives of those most vulnerable and their families."