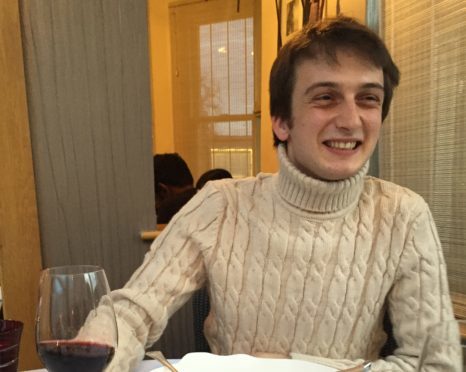 A St Andrews philosophy student will be swapping Descartes for à la carte as he competes for a prestigious scholarship with Le Cordon Bleu culinary school.
Graduate student Jamie Rumbelow, 23, has been adding recipe books to his reading list in preparation for the final stage of the competition, which takes place at Le Cordon Bleu London on Wednesday.
He is one of 16 candidates who will take part in a cook-off for a coveted Julia Child Scholarship, which is a legacy of the pioneering American chef and author.
Worth £45,000, the scholarship will secure the winner a place on Le Cordon Bleu Grand Diplôme, an accredited professional diploma regarded as a mark of excellence across the industry.
If successful, aspiring food writer Jamie would go on to complete an internship at Mere Restaurant under the guidance of television chef Monica Galetti.
Jamie said: "I've been studying for years toward an academic career in philosophy, and have been working as a software engineer before and alongside my studies
"I'm delighted to make it to the finals of the 2018 Julia Child Scholarship as I'm just an enthusiastic amateur.
"I want to be a food writer, exploring the subtle, complex and important connections between food, culture, and society. I feel the Julia Child Scholarship by Le Cordon Bleu would give me the required sort of knowledge."
The winner will also benefit from one-to-one mentorship sessions withesteemed alumni of Le Cordon Bleu including MasterChef: The Professionals quarter finalist Luciana Berry, executive chef at Renaissance St Pancras Adam Ashe, former pastry chef at The Fat Duck Hideko Kawa and chef patron of Bala Baya, Eran Tibi.
Emil Minev, culinary arts director at Le Cordon Bleu London, said: "Every year selecting finalists for the scholarship award is a tough task, and this year was no exception as the entry numbers had soared almost 150% since we first launched the campaign eight years ago.
"We are very pleased with the selection of candidates who will go on to the final stage in just a few weeks. We wish them all the very best in the next heat and look forward to a spectacular awards ceremony thereafter."