The Scottish Government has announced an independent review into the impact of policing on communities during the miners' strike.
Justice Secretary Michael Matheson said he hoped the year-long review would help heal the bitter sense of injustice felt by mining communities since the dispute more than three decades ago.
The move has been hailed by former miners who had campaigned for an inquiry to "shine a light of truth" on policing tactics during the 1984-85 strike.
Fife man Tom Adams described the announcement as "awesome" and said: "After 34 years of looking for justice, at last a beacon of light will be shone on what went on."
Mr Adams, who worked at Frances Colliery in Dysart, claims he was punched in the back of the head and thrown into the back of a police van during the dispute.
He has previously described the policing of the strike as "organised state thuggery" which left hundreds of men convicted, sacked and blacklisted.
"This is not a witch hunt against individual police officers but we need to right this injustice," he said.
The review will be led by one of Scotland's leading human rights lawyers, John Scott QC, supported by a panel comprising former MP and MSP Dennis Canavan, Professor of public law Jim Murdoch from Glasgow University, and former assistant chief constable Kate Thomson.
Mr Matheson said he hoped the move would prompt the UK Government to reverse its controversial decision not to hold an inquiry into policing at Orgreave Pit in South Yorkshire.
"I want this review to bring openness, understanding and a degree of closure to all those involved," he said.
"At the same time, I have written to the Home Secretary to ask that he seriously reconsider the UK Government's position at this point — only a UK-wide investigation could fully explore concerns about the involvement of the then UK Government."
A full report setting out lessons learned and making recommendations for any other actions required will be completed by June 2019, and will be made publicly available.
Mid Scotland and Fife Labour MSP Alex Rowley joined campaigners and former miners outside the Scottish Parliament to welcome the announcement.
"I come from a mining community and remember the impact the strike had on families all around me," he said.
"This announcement is a welcome step in a move to delivering justice to miners affected during the strike."
Nicky Wilson, president of the National Union of Mineworkers, added: "We have good relations with the police and have no wish to pursue a vendetta but it's high time that what mining communities endured during the strike is properly addressed."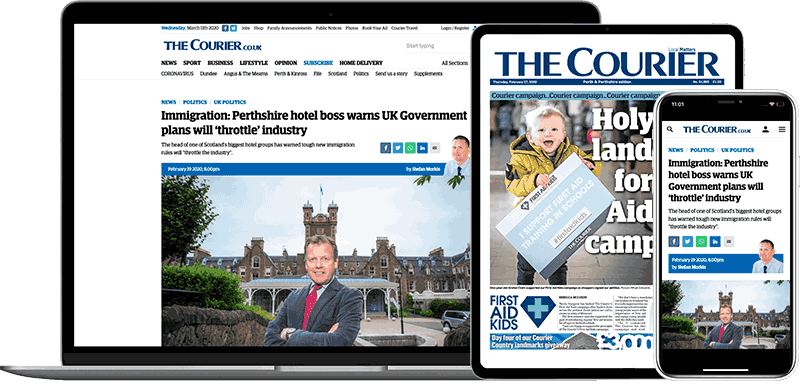 Help support quality local journalism … become a digital subscriber to The Courier
For as little as £5.99 a month you can access all of our content, including Premium articles.
Subscribe