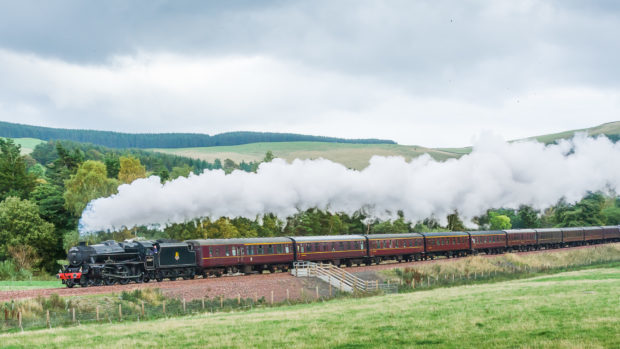 It will be full steam ahead for hundreds of passengers aboard an iconic rail route again this summer.
Last year's Fife coast to Scottish Borders trips were a sell-out and now they are returning for a second year, taking in two of the most scenic routes in the country.
Run by the Scottish Railway Preservation Society, the experience takes in views of the new Queensferry Crossing while traversing the spectacular Forth Bridge.
SRPS ran four Fife coast to Scottish Borders trips last summer, carrying a total of 1,600 people.
The Black Five steam locomotive will travel the same route this year.
SRPS is a charity which maintains former British Rail coaches and the tours are organised and staffed by unpaid volunteers.
VisitScotland expects the steam experience to provide an important boost to the Borders economy after it attracted hundreds of visitors to the region last year.
The organisation's regional leadership director, Paula Ward, said: "The steam train special from Fife, through Edinburgh and travelling down the Borders railway to Tweedbank last year proved a runaway success with many of the days completely selling out.
"Without a doubt, passengers are in for an unforgettable day out – they can sit back and relax and take in the picturesque beauty of the Fife coast, the iconic Edinburgh Waverley station, with plenty to see and do when they arrive in the Scottish Borders, all topped off with quality local food and drink.
"The return of the steam train experience provides an important boost to the local economy and continued to shine the spotlight on the quality of tourism offering in these regions."
People will board in Linlithgow and travel over the rail bridge and round the Fife coast before heading south on the 31-mile Borders railway route to Galashiels and Tweedbank every Sunday in August.
It will travel through Kinghorn, Burntisland and Aberdour and will stop for a while in Dalgety Bay.
Scottish Borders Council's executive member for business and economic development, Councillor Mark Rowley, said: "We are delighted to work alongside SRPS and our Borders Railway Blueprint partners to bring back the steam train experience in 2018 after a hugely successful 2017."