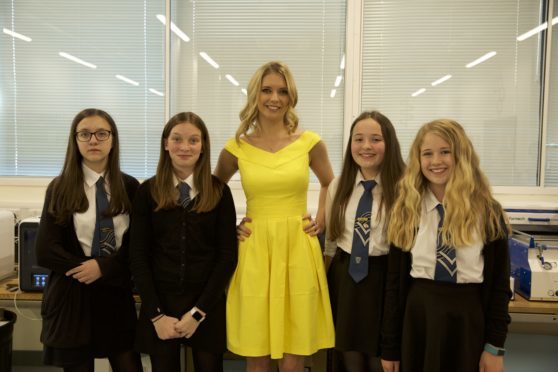 A team from Woodhill High is counting down the hours until a UK-wide school science final — after getting a thumbs-up from Countdown star Rachel Riley.
Four second year pupils from the Dunfermline school have fought off tough competition from hundreds of schools across the UK to become one of only five finalists in Shell's annual competition, the Bright Ideas Challenge.
By 2050, with around nine billion people on the planet, it is predicted that demand for energy will double.
The challenge asks young people to use their Science, Technology, Engineering and Maths skills, creativity and teamwork to come up with innovative energy solutions for making future cities clean, efficient and vibrant.
Hannah McLellan, Kodi Garriock, Morven Duncan and McKenzie Wood, who together make up Team Waste-to-Energy, proposed a scheme which would see portable bio-refinery machines installed at local recycling facilities.
These mini refineries would convert organic food waste into ethanol using industrial yeast and plastics and paper into methane using a gasification unit.
The ethanol and methane would then be converted on site into a renewable electrical energy source.
The competition finalists won £2,500 to super-size STEM education at their school and were invited to an exclusive prototyping session at Imperial College London.
They were joined by Countdown and Strictly Come Dancing star Rachel, long-time Bright Ideas Challenge Ambassador, who mentored them as they used the state of the art facilities to bring their bright idea into reality.
As well as becoming finalists the team also won the energy innovation award in recognition of the way their idea would power neighbourhoods.
Rachel said: "Meeting and working with the finalists from this fantastic competition has been so inspiring."
The students' 3D printed designs will be displayed alongside cutting-edge innovations from around the world at Make the Future Live, Shell's four-day festival of ideas and innovation next month in London.
The national champion will be selected by public vote at the festival.
The Woodmill team said seeing its ideas come to life had been amazing and it was hard to believe the 3D model would now take centre stage at the festival.
Shell UK education manager  Marcus-Alexander Neil, added: "The complex global challenges we face in the next few decades will demand the skills of more scientists and engineers than ever, yet the UK has an annual shortfall of 59,000 engineering graduates.
"We hope that The Bright Ideas Challenge will help young people recognise that their STEM skills can help shape a bright future and inspire more young people to become the scientists and engineers of tomorrow."