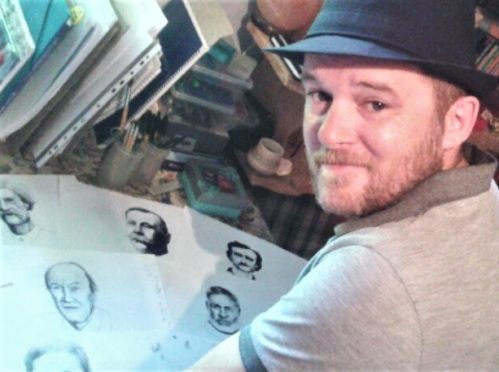 Michael Alexander speaks to St Andrews-raised self-taught cartoonist Peter Herron about his new venture.
Growing up in St Andrews, Peter Herron was no stranger to colourful tales from the town's often dark and turbulent past.
But now the 43-year-old cartoonist, whose great-great great uncle was 1902 Open Championship winner Sandy Herd, has taken a novel approach to literature by doing the illustrations for a book by acclaimed American author Jane Yolen.
Jane – the New York-born fantasy, science fiction and children's author who has written or edited more than 365 books, of which the best known is Holocaust novella The Devil's Arithmetic – takes a humorous and sometimes acerbic look at famous authors throughout literary history in her book A Mixtie-Maxtie Motley Squad: Verses to Dead Authors.
Peter, a former Langlands Primary and Madras College pupil who got to know Jane through her residence in St Andrews, said he hoped his illustrations of famous authors on the cover, complimented the book well.
He said: "Over the course of a year I took a lot of time to study the faces of some of the most important literary figures to really capture their essence knowing I was contributing to the bibliography of an author of impeccable credentials.
"It was an honour to be chosen to provide artwork for an internationally renowned writer, especially as I was more known for my cartoons not my illustration skills.
"This was an opportunity for me to show that I have more than one string to my bow."
Peter, a self-taught cartoonist and former St Andrews restauranteur, came to prominence when he opened a cartoon gallery in St Andrews in 2011 in a bid to change the assumption that a gallery was just about fine or modern art.
He has been involved in various art work commissions since.
Describing A Mixtie-Maxtie Motley Squad: Verses to Dead Authors as "cheeky and caustic, irreverent and snarky", Jane says her sly epigrams burble forth from a lifetime of reading and writing and realizing all is not what it seems.
The 50-odd poems offer an affectionate takedown of famous authors, spun with an audacious charm and thoughtful whimsy, which include titles including Homer Is Where the Heart Is and Ursula K. Le Guin's Left Hand.
Jane said: "I have had a house in St Andrews for over 25 years. My husband taught during his sabbaticals at St Andrews University and was an honorary professor there.
"I was the first woman ever to give the Andrew Lang lecture at St Andrews.
"I have set a number of my books in Scotland, have just published books #365 and #366, which means you can read a book of mine a day for a year–even on the Leap Year!
"I run a yearly luncheon for published fantasy writers at my home, and folks working on the Stanza Festival take over my house for the full festival, and even have lectures or a panel there."
Meanwhile, Peter is currently working on another children's book, Heroes of Scotland, which aims to introduce Scotland's young people to some of the lesser known characters from their nation's history.
Peter adds: "Now I'm finished with illustrating Jane Yolen's book I can concentrate on my passion project Heroes of Scotland which will be filled cover to cover with hilarious cartoons of famous Scots throughout history.
"The book will be for all ages but it's mainly to teach children the historical importance of our best of the best in whatever field they chose to dedicate their lives to."
Jane Yolen's book A Mixtie-Maxtie Motley Squad: Verses to Dead Authors will be available from July 31 via www.unsettlingwonders.com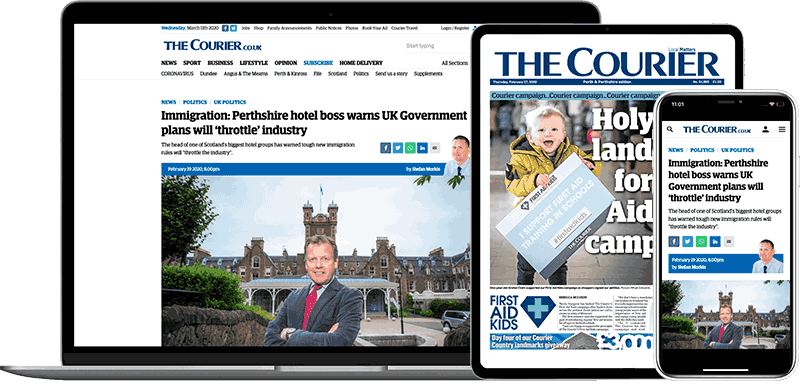 Help support quality local journalism … become a digital subscriber to The Courier
For as little as £5.99 a month you can access all of our content, including Premium articles.
Subscribe