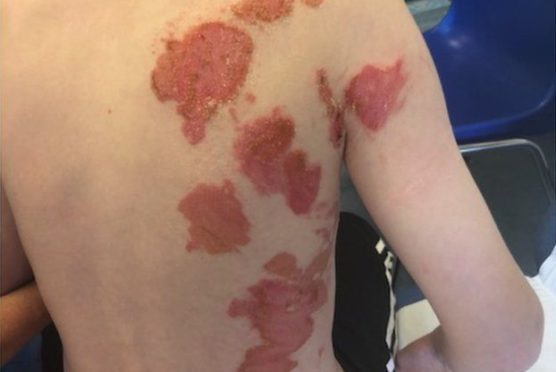 Three children were treated for burns after a camping kettle exploded during an outdoor class run by their school.
One of the youngsters was placed in intensive care when his wounds became infected and he may now be scarred for life.
The pupils were sprayed with boiling water when the kettle exploded in woodland behind Lumphinnans Primary School, in Fife.
At least one of the families involved is considering taking legal action against Fife Council, which said it was investigating the June 12 incident.
Ryan Griffin suffered burns to his back, while Charles Radlski, who is thought to still be in hospital, and a girl suffered scalding to their faces and bodies.
The three, all aged 11 and 12, were among a group of 10, including Ryan's eight-year-old sister Rosie, who were taking part in the outdoor cooking class being run by the school after lessons.
It's claimed class leaders had left a cork stopper in the kettle, despite a manufacturer's warning that it must be removed before water is heated.
Ryan was screaming in pain when his mum Jo Griffin arrived.
She said: "I got a phone call saying there had been an incident. When I got there they had him in the shower.
"He said he had seen the stopper starting to come out and he turned to run away and that's when it exploded."
Jo, 35, said the kettle had been operated in the same way during five previous sessions without incident, but her husband Brian, 42, used one regularly and said the practice had been "an accident waiting to happen".
The couple are considering suing the council.
Jo said: "The school has been great but Fife Council hasn't.
"The hospital said if it wasn't for the actions the school took, it could have been worse.
"We haven't heard anything at all from the council since my husband spoke to them the next day."
Ryan was taken to Victoria Hospital, in Kirkcaldy, and has been treated at the Royal Hospital for Sick Children in Edinburgh. He returned to school this week.
"He was in a lot of pain, but he has dealt with it really well," said Jo.
Charles' father Wojtek Radlski said: "When my wife and I saw our son we both cried because his burns were so bad.
"He was vomiting with the infection and in intensive care for 24 hours and is still in hospital now over a week later.
"The doctor said he would be scarred for life on his shoulder, as the burns damaged his nerves, and possibly on his face."
Carrie Lindsay, executive director of the council's education and children's services, said: "Our thoughts are with the children who were injured and a full investigation is currently taking place.
"We can't comment further at this point."