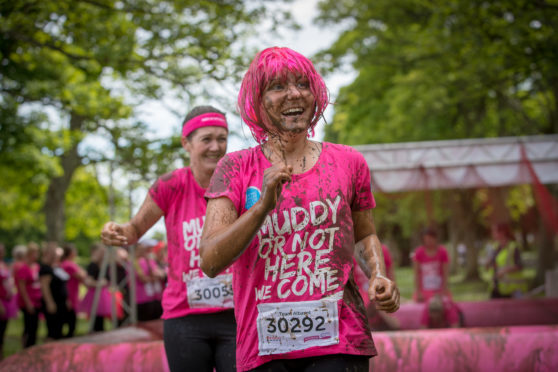 A mum-of-two fighting cancer for a second time led more than 2,200 pink-clad runners at Fife's Race for Life.
Lindsay Blake sounded the horn to start the weekend's events raising money for Cancer Research UK in Kirkcaldy's Beveridge Park.
The 45-year-old from Burntisland, with a team of 24 friends and relatives, took on the Pretty Muddy 5k race on Saturday, crawling under, scrambling over and sliding down mud-filled obstacles.
Diagnosed with breast cancer in 2012, she was only two months short of being five years clear when she received the hammer blow that the disease had returned, striking her breast bone and liver.
Lindsay said: "I did my first Race for Life with my daughter Stephanie right after finishing cancer treatment and we've taken part every year since.
"We've raised more than £9,000 over the years thanks to the generosity of friends and family.
"Their support keeps me feeling positive, even through the tough days."
Lindsay, who lost her mum Angela to lung cancer, is being treated with a new drug for breast cancer, palbociclib, which scientists funded by Cancer Research UK played a lead role in developing.
She said: "It was a shock when I was told cancer was back.
"I looked at my husband then burst in to tears. But after a minute I just wanted to ask the doctors, what's next? What are my options?
"I have a great life with a family I love to the moon and back. I refuse to let cancer stop me. I'm so proud to support Race for Life for all those who have survived and all those who we've lost to cancer."
Lindsay has been told her cancer is treatable but not curable, however after radiotherapy and monthly injections to strengthen her bones the tumour is shrinking.
Husband Steven, 44, and children Steven, 22, and Stephanie, 27, are hugely proud of her determination.
Cancer survivor Aileen Blair and her daughter Linsey Blair set off the 1,000 or so runners in the traditional 5k and 10k races on Sunday.
Aileen, 68, of Glenrothes, considers herself one of the lucky ones, clear of the breast cancer she was diagnosed with in 2003 thanks to surgery, chemotherapy and radiotherapy.
She said: "I got through cancer and have an amazing family who got me through it.
"But I've supported friends through cancer since and sadly lost people to the disease and I know it affects so many people."
Race for Life events, staged across the country, raise millions of pounds each year to fund life-saving research.
Event spokeswoman, Lisa Adams, said: "Sadly, most of us know someone whose life has been touched by cancer.
"But thanks to the huge progress that has been made in the fight against the disease, more people in Scotland are surviving cancer than ever before.
"Our aim is that one day everyone will beat cancer. The more research we can fund, the sooner that day will come."