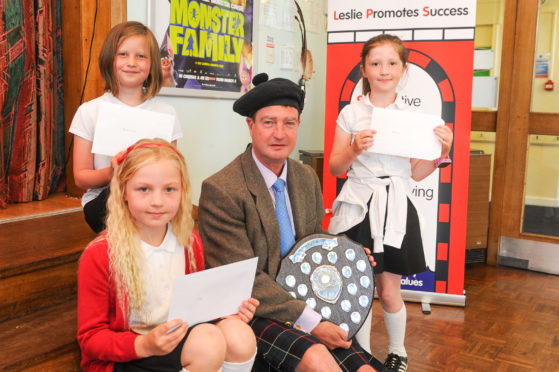 The Chief of Clan Leslie visited Leslie Primary School to talk to pupils about his family history.
Each year, the primary four class learns about the area's heritage, with the Mary Higgins Shield presented to the pupil with the best project.
This year Eve Cooper-McCulloch won the shield, with Murron Pratt and Rebekah Bloomer in second and third place respectively.
Clan chief the Honourable Alexander Leslie has already had his name in the papers this week, albeit mistakenly.
A newspaper erroneously named him as the father of Game of Thrones actress Rose Leslie, who married Kit Harrington, famous for playing Jon Snow in the hit HBO series, in Aberdeenshire at the weekend.
Mr Leslie, a distant relative of Rose's father Sebastian Arbuthnot-Leslie, said: "I can confirm that I'm not her father. I do know her father very well."
The pupils had many questions for Mr Leslie, and were particularly keen to hear about his great-grandmother, Noël, the Countess of Rothes, who survived the Titanic disaster of 1912. Lady Rothes was a philanthropist who converted Leslie House into a hospital for wounded soldiers during the First World War.
"I was really impressed by how much they have learned about Leslie and its history," said Mr Leslie.
"They asked me a lot about my great-grandmother who was on the Titanic and how big the original Leslie House was. When it was completed, it was bigger than Holyrood Palace."
The A-listed, but now derelict, Leslie House was the family home of Mr Leslie's ancestors until 1919.
It was ravaged by fire in 2009, and there has been a local campaign to save Fife's largest Restoration mansion.
Muir Homes has planning permission to build 28 houses on its grounds.
However, the housebuilder wanted a clause removed that tied the sale of the homes to the restoration of the 17th Century building.
This was knocked back by councillors and then the Scottish Government in a bid to safeguard the future of Leslie House.
Local historian Bill Fiet, from the Clan Leslie Charitable Trust, was a neighbour of Mary Higgins.
He said: "Mary was always interested in local history and the three Rs.
"When Mary died her daughters put together a fund, to give a prize to the pupil who writes the best essay or display about Leslie and its history.
"It keeps history, and the spoken word, going for the kids."