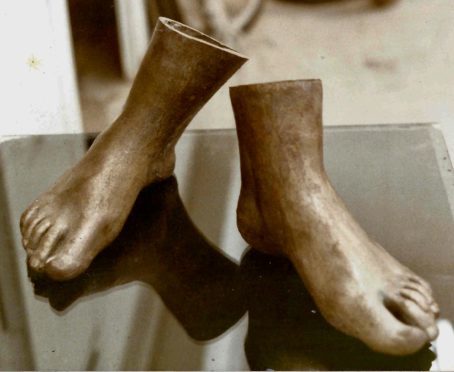 A Fife woman is appealing to bring to heel the thieves who made off with a pair of bronze feet from her doorstep.
The casts – which were made by Judith Winter while she was in her second year studying sculpture at London's Saint Martin's School of Art in 1986 – have been stolen from outside her Newport home.
The curator, writer and lecturer has been left baffled by the theft – as the sculpture is not worth a penny, but holds a strong sentimental value as a reminder of her student days.
The casts are of her own size five-and-a-half feet and were moulded at a foundry three decades ago with the help of her close friend Chris Gallaccio.
The mother-of-two has kept them for more than three decades, giving the feet a new lease of life as garden ornaments at her Newport home.
Mrs Winter is calling on locals to keep their eyes peeled for the feet, as she believes they may have been abandoned in the local area or that they could appear in a local thrift shop.
Though unable to pinpoint the precise date they were stolen, they are believed to have gone missing recently.
She said: "It is kind of sad. I can't see what value they would be to anyone else really.
"I only noticed when I was gardening. I hadn't been in the garden for a while. I had them at the front door. They were hidden by plants and things. It felt like a nice place to put them. I only noticed it last week.
"Thirty-one years ago I was an art student at Saint Martin's School of Art studying sculpture. They have sort of stayed with me and are a memento of that time and those formative experiences.
"They are my feet. At that time I was 21. They were cast also by a close friend – who was an artist and who is sadly not here any more – and a technician at quite a well-known foundry in London.
"I think casting bronze is kind of something about permanence. In my own work I was interested in history and traces and how things were valued through time. They were significant. That is why I kept them.
"It makes me think of those times in a really nice way."
Though admitting she perhaps shouldn't have left them outside, Mrs Winter said that the memories that came flooding back when she appealed for information on the theft made her "smile".
She added: "It's put me in touch with a lot of people who remember me casting them.
"If anyone took them as a joke or just because they thought they were amusing, if they can return them that would be wonderful.
"If it was taken as a joke, I imagine they may just be abandoned somewhere."
If you know where the feet might be, contact online@thecourier.co.uk.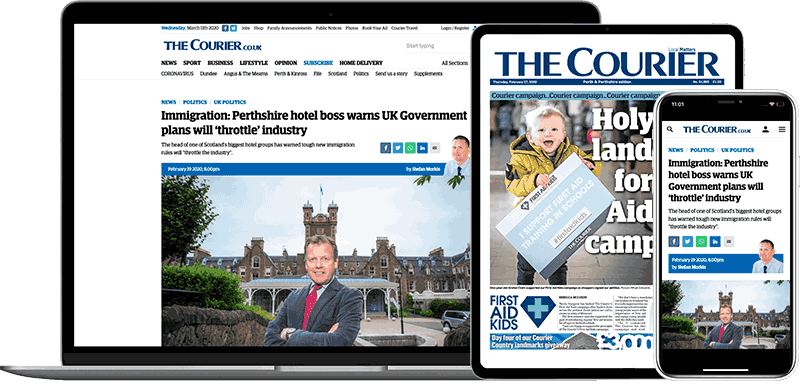 Help support quality local journalism … become a digital subscriber to The Courier
For as little as £5.99 a month you can access all of our content, including Premium articles.
Subscribe