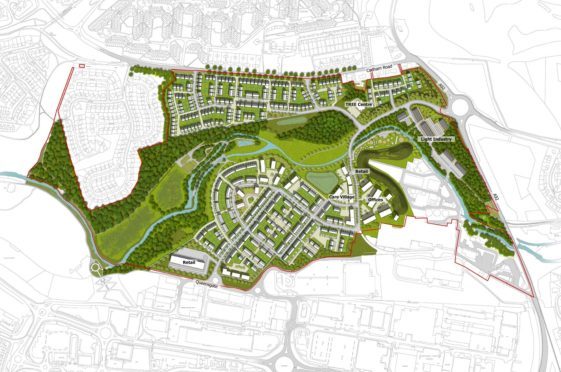 Major plans to deliver 750 jobs and a £42 million boost for Glenrothes have been unveiled.
The plans are to recycle the former Tullis Russell paper mill into homes for a new community.
Town planners and designers Barton Willmore have submitted a planning permission in principle application on behalf of Advance Construction, a firm specialising in large-scale ground works and civil engineering.
The plan placed before Fife Council centres on a mixed use masterplan which includes up to 850 new homes.
It is estimated the regeneration project will deliver a £42.5 million boost for the new town, which is celebrating its 70th anniversary.
It is hoped it could create up to 450 jobs and employment for around 300 construction workers during the 10-year building programme.
Alongside housing, at the heart of the 52-hectare site, are retail and leisure facilities, business space, industrial units and a care home.
There will also be an extension to the Riverside Park, which will connect the new development to Glenrothes town centre.
Local councillor Altany Craik, who is also Fife's economy, tourism, strategic planning and transportation committee convener, warmly welcomed news that the plans are progressing.
He said: "Redevelopment of the Tullis Russell site will make a huge difference in Glenrothes.
"The mixed nature of the master plan creates a dynamic vision of what might be achieved over the next 10 years.
"If progressed this development will bring much needed jobs to the area with benefits to our communities, not only in the construction phase but in the longer term.
"I am pleased that this development plan has come along so quickly as it will mean that the large industrial site isn't left derelict in the middle of the town.
"Sad as I was to see my former workplace close, I believe this plan could be the beginning of a new chapter."
Barton Willmore have worked closely with Bellshill-based Advance Construction to develop the plans, providing town planning, masterplanning, landscape, environmental impact assessment and socio-economic assessment services for the project.
Its planning director for Scotland, Colin Lavety, said the application aimed to breathe new life back into what was an important landmark, historically, for the town.
"It will regenerate a high profile site which has been left vacant since the former Tullis Russell paper mill site was closed, creating a desirable, attractive and highly sustainable place to live and work.
"Our focus has been to deliver alternative but complementary uses to the existing town centre, alongside a mix of high-quality homes which are within easy walking distance of schools, jobs, shops, leisure facilities, parkland and public transport."
Advance Construction's director of strategic operations, Lynsey Breen added: "We're proud to help transform Glenrothes and get the area ready for hundreds of high-quality houses, which will contribute to the much needed demand for new homes and jobs in the area."