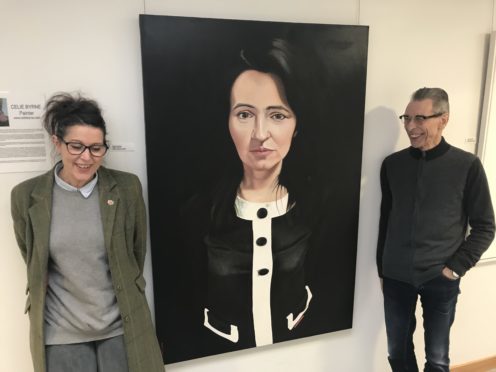 A Scottish folk music legend has confirmed he is returning to his Fife roots to launch his long-awaited new LP.
Born in St Andrews, Rab Noakes has been a well-loved songwriter and performer for more than 50 years.
He will return to the Lochgelly Centre, a venue he shares a fond history with, to launch his 20th full album 'Welcome to Anniversaryville' on August 29 – which will be accompanied by an art show by renowned artist Celie Byrne.
Rab, who recently told part of his story in the National Museum of Scotland's new 'Rip it Up' exhibition examining Scotland's pop cultural history, performed a concert at Glasgow's Old Fruitmarket with his '70/50 in 2017' band of musiciains as part of Celtic Connections, and it is that gig that form the backbone of 'Welcome to Anniversaryville'.
Rab said the significance of the Lochgelly Centre is not lost on him, as the venue holds a special place in his heart.
"I've always liked the Lochgelly Centre. It was a great addition to Fife's cultural environment when it opened in 1976.
"It represents the need for, and wisdom of, focusing attention on places like Lochgelly, which have had little attention through the years.
"I once lived relatively close by, at Torbain Farm cottages, on the Auchtertool – Kirkcaldy road.
"My initial performance there was in 1984. It was the time of the Miners' strike and in a conversation with Billy Connolly he said 'If you're doing anything in Fife, count me in.' I contacted Kirsty Adams at what was then 'Arts in Fife' and, in conjunction with Fife County Council, two concerts were organised. One was in Dunfermline, at Carnegie Hall, and one in Lochgelly, at the Centre.
"They were a major success and raised about £5,000 between them. John Watt opened the concerts, I played a set and Billy played the whole second half.
"The next time I performed there was in 2000. I was with my occasional band, The Varaflames, and it was our first tour. That original line-up featured Pick Withers, Rod Clements, Fraser Speirs and me."
Rab also revealed he met with Celie Byrne at the centre during an exhibition of hers to discuss the possibility of her doing the artwork for his new album, and she agreed to contribute.
"While we were at the centre we were approached by the folks there and invited to hold a launch for the album in the centre," he added.
"We gladly accepted this invitation and look forward very much to the event, in this terrific space.
"There'll be socialising, art, a few familiar Fife faces and, of course, live music from the album's musicians and me."
Tickets are available via http://www.onfife.com/whats-on/detail/rab-noakes-welcome-anniversaryville-launch priced £10.