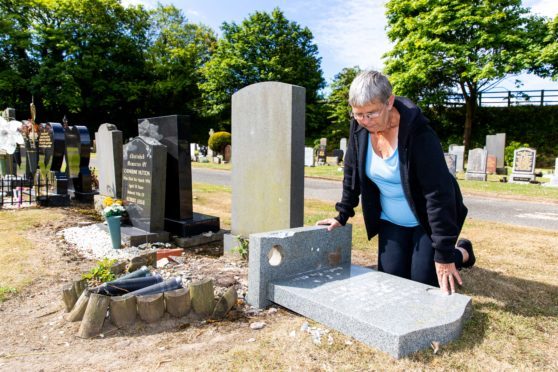 A West Fife widow has been left heartbroken after callous vandals destroyed memorials belonging to her late husband and father-in-law.
Isobel Ward told how she was too scared to stay home alone after the despicable attack which took place in Hillend Cemetery between June 29 and July 1.
The 67-year-old told how the thugs had bashed her husband Frank's headstone with a hammer before pushing it over.
A memorial plaque to her late father-in-law Peter Ward, who died after being diagnosed with Motor Neurone Disease, was also targeted and "smashed to smithereens".
Mrs Ward, whose husband Frank also had MND before passing away in 1995 aged just 53, believes the attack was targeted as no other memorials were damaged.
She said: "A friend came to the door and told me Frank's stone was lying down and she thought it had been badly damaged.
"There was a wee rabbit and a gnome that my son's had bought for him and they were all smashed.
"They went and had a down the bottom at the memorial garden where my father-in-law is and his plaque was smashed to smithereens.
"We to see what the damage was and it was like they had hit the headstone with a hammer – there were little holes all over the stone.
"I was really angry. They've made a real mess of them both.
"My son went down to try lift the stone back up but the council informed me that we had to leave it lying down in case it fell on someone.
"I just don't understand it. Frank's been out there for 23 years and my father-in-law has been out here for 43 years and then something like this happens.
"There was no damage to any other memorials or headstones so they've just targeted these two. They're at opposite ends of the cemetery so it wasn't random.
"I just felt sick when I found out. I was so upset. It can't have been children that have done it because the stone is just too heavy for them to move. I believe it has been an adult.
"I was a bit frightened because I thought if they can do this to him, then what if they come to my door?"
The grandmother-of-four, who lives in Inverkeithing, is appealing for anyone with information to get in touch with the police.
The devastated family are now having to cover the costs of replacing the headstones due to the extent of the damage.
A Police Scotland spokesman said: "Police in Dunfermline are investigating after two headstones within the Hillend Cemetery in Clockluine Road were damaged sometime between Friday June 29 and Monday July 2.
"Inquiries to identify those responsible are ongoing and anyone with information is asked to come forward and quote incident number 4008 of July 2."