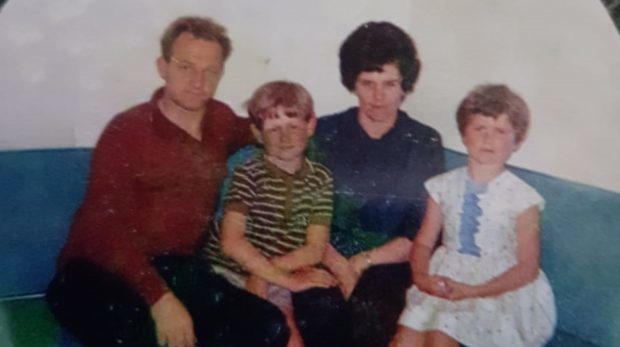 Tributes have been paid to a devoted Fife couple who died within three days of each other.
Jackie and Janette Davie, who lived in East Wemyss, were together for 63 years and  happily married for 58 of them until Jackie died on Sunday July 1 at the age of 81.
There was more heartache for their family when Janette fell ill and died at Kirkcaldy's Victoria Hospital the following Wednesday.
Relatives will say their final farewells at a joint funeral this week.
They said they were taking comfort from the fact that the couple only had to spend three days apart.
It is thought Janette suffered a stroke after finding Jackie collapsed on the floor, and never fully recovered.
The family said: "We're absolutely shocked and stunned that everything has happened but we're trying to take a positive in that they were only apart for three days after so many years together.
"They say in times like this that people can die of a broken heart, and we think she just didn't want to be here without him."
The couple had two children, Billy and Jacqueline, and were parents-in-law to Caroline and Johnstone, doting grandparents to Natalie, Kevin, Lauren, Mark, Megan and Tommy, and proud great grandparents to Amelia.
One of nine children, Jackie's father died when he was just 15 so he effectively worked from a young age as the breadwinner for the family.
He was a miner for around 35 years and worked at the Michael Colliery until it closed in 1967 following a disastrous fire which killed nine miners.
He then had a stint at the Frances Colliery at Dysart, known as the Dubbie, and went on to work for the council as a street sweeper.
Janette was a home carer, but spent most of her life bringing up her family.
A joint funeral service is due to take place at Kirkcaldy Crematorium on Wednesday to which all family and friends are respectfully invited.
Donations can be made in the couple's memory for Macmillan Cancer Care.