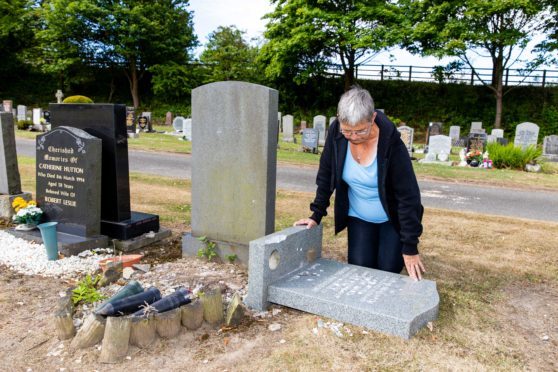 A Fife business has offered to replace two memorial stones which were smashed by heartless vandals.
Crosbie Matthew Funeral Directors were moved by the plight of the Ward family who spoke of their horror following the sickening hammer attack at Hillend Cemetery last week.
Widow Isobel Ward said she believed the vandalism was targeted as only the memorials belonging to her late husband Frank and father-in-law Peter were smashed.
The 67-year-old, who lost both her relatives to motor neurone disease, said she had no idea how she was going to replace or repair the extensive damage.
However, she has been thrown a lifeline after the firm offered to step in and replace the stones free of charge.
Alan Morrison, manager for the company, said: "When we saw the article on Friday, I knew right away it was in Hillend Cemetery and that's quite local for us.
"There's not much vandalism around that particular area and we thought that as a company, maybe we should get in touch Mrs Ward to find out if we could possibly help.
"These particular stones are very expensive and you're looking at well over £1,000 to get it re-erected."
Fife widow hits out at heartless vandals who targeted gravestones
Mr Morrison said the firm wanted to do its but to support the family and the wider community.
"It'll hopefully give the family a wee bit of closure," he said.
"There's nothing worse than when a family goes to a cemetery and they see their family stone has been knocked down by vandals or whatever.
"These things are so hard to move that I think it must have been deliberate. They don't just fall over. I'm glad that we can help out."
Mrs Ward, a grandmother-of-four, was bowled over after hearing of the firm's kind offer. She said: "I just can't believe it. What an amazing thing to do."
Police are still investigating the attack, which us understood to have happened earlier this month, and have appealed for witnesses to come forward.