Beachgoers are being warned about the dangers of giant inflatables, after lifeboat crews were called out four times in one week to potential emergencies in the Forth.
In one terrifying incident, a young child was drifting far from the shore at Longniddry.
In another, a massive air and sea search was carried out after an inflatable puffin was reported drifting 700 metres off Portobello beach.
It was the second call-out to Portobello for Kinghorn RNLI volunteers. The crew were previously sent in search of a drifting flamingo.
They were also dispatched after reports of an inflatable in the water off Kirkcaldy.
Kinghorn Lifeboat helm Neil Chalmers said the most recent incident, involving the puffin, happened on Sunday evening.
A search was launched involving the lifeboat, Fisherrow, North Berwick and Queensferry coastguard rescue teams, and the UK Coastguard rescue helicopter from Prestwick.
After an extensive three-hour operation, which included gathering information from witnesses who were on the beach, the crews were stood down.
Mr Chalmers said: "Due to the incomplete information available, and the possibility of someone being in the water, an extensive search was launched.
"The coastguard will always err on the side of caution."
He warned inflatable toys were not suitable for use on the beach and urged parents not to take them on day trips.
"If you do choose to take them to the beach, these toys should be securely tethered to the shore, and they should certainly not be used when the wind is blowing away from the beach," he said.
"These toys are easily blown by the wind and can quickly move offshore, particularly with young children.
"The young girl at Longniddry had a lucky escape but had to be checked out by an ambulance crew once she made it back to shore," he said.
Mr Chalmers' advice to anyone spotting an inflatable drifting at sea, or anyone who is using one which gets blown away, is to report it to the Coastguard by calling 999 immediately, giving as much information as possible.
"This will mean the toy can be recovered and prevent a larger search being launched," he said.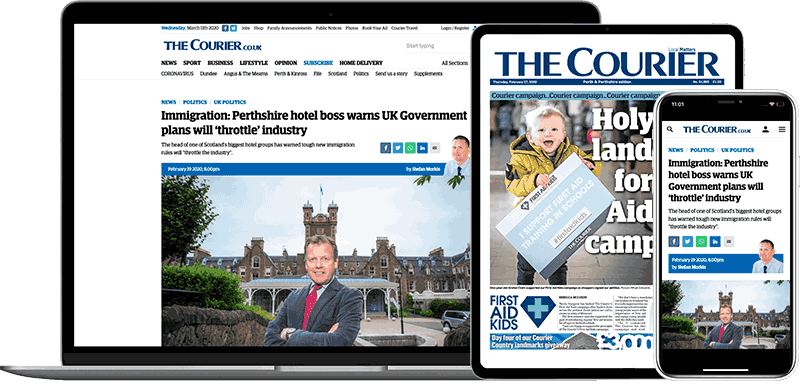 Help support quality local journalism … become a digital subscriber to The Courier
For as little as £5.99 a month you can access all of our content, including Premium articles.
Subscribe