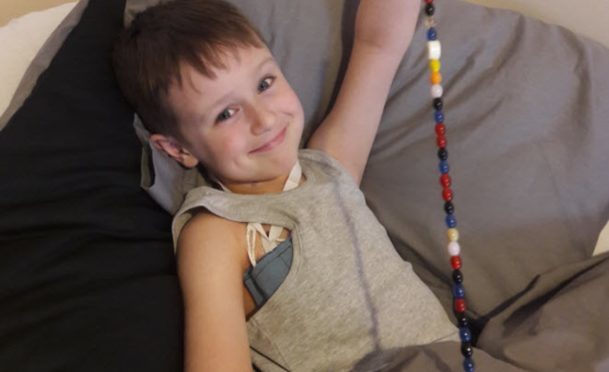 Fifers are being urged to become lifesavers at an event in Dunfermline this weekend.
Relatives of Rosyth boy Michael Gartshore, 8, who is battling a rare and potentially life-threatening condition, are appealing for people to register as potential blood stem cell donors with DKMS, a blood cancer charity.
Supporters are holding a public registration event in the Kingsgate centre on Saturday from 10am to 3pm.
Organisers are urging people aged between 17 and 55, who are in general good health, to attend and register as potential lifesavers.
Michael was diagnosed with aplastic anaemia, a condition which stops his body from producing enough blood stem cells, after his mum noticed unusual bruising.
The youngsters is currently receiving two blood transfusions every week but now his best chance of survival is to receive a blood stem cell donation from someone with a matching tissue type.
Mum Tracy said: "The weekend before his diagnosis he was playing in the park and running around like any boy of his age.
"It just came out of nowhere and knocked us all for six."
Despite a global search, no matching donor has been found and now he is relying on a stranger to help save his life.
DKMS is supporting Michael's search to help find a donor for him and the other 2,000 people in the UK currently looking for a match.
Sadly, four out of 10 blood cancer patients in the UK will not find an unrelated matching blood stem cell donor.
Tracy added:  "It's heartbreaking to witness your child go through this – you wouldn't wish it upon your worst enemy.
"At times we feel utterly hopeless, as there is absolutely nothing we can do except hold his hand."
The family has been working with DKMS to raise awareness of Michael's plight and explainwhy registering is so important for everyone fighting a such a condition.
Donor recruitment manager Sarah Gray urged members of the public to attend.
"By doing this selfless act and registering as a potential lifesaver you'll go on standby to save the life of someone just like you," she said.