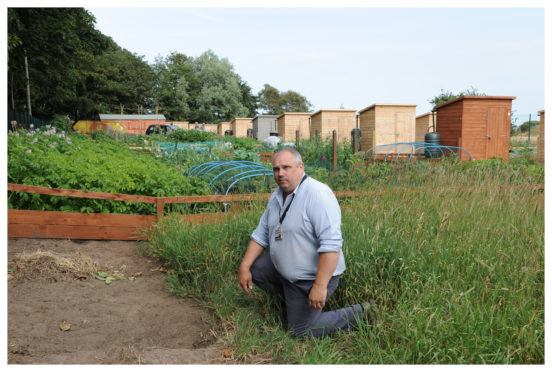 A bomb disposal squad had to be called yesterday after another grenade was found at a Fife allotments.
Gardens at Silverburn Park, near Leven, were cordoned off by police as the Army's Explosive Ordnance Disposal team dealt with the wartime device.
It is the third device to be unearthed in the allotments in recent weeks.
Plot holders were told last month not to cultivate their patches until a specialist examination of the land had been conducted.
However, Friday's discovery was made when an overgrown plot was dug against advice.
The plot at the centre of the drama, where two devices have now been found, has been declared a no-go zone.
Peter Duncan, council allotments officer, said: "Following the previous incident at Silverburn we had advised allotment holders not to dig on their plots until further notice, so it's very unfortunate that this has happened.
"Access to this plot will be completely restricted for the moment.
"The specialist company we contracted to check the site have scanned not just the allotments, but the whole lower part of the park this week, including the land FEAT (Fife Employment Access Trust) plan to develop as a campsite.
"Once they've analysed all the data gathered and reported back to us in the next week or so, we'll be in touch directly with allotment holders to let them know what will happen next."
A police spokeswoman said: "Police in Fife were called to an allotment in Silverburn Park, Leven at around 12.30pm on Friday, July 13, after a member of the public discovered what appeared to be an old grenade.
"The area was cordoned off as a precaution while the EOD disposed of the item safely.
"The public are thanked for their cooperation during this time."
Leven, Kennoway and Largo Labour councillor Colin Davidson said Friday's drama was an "unnecessary event".
He said: "This has been an unfortunate ignoring of the rules.
"The person probably did it with the best of intentions, but it was quite clear they had only to water the plants and not plant anything new or do any digging until the survey was complete."
He said he hoped it was another dummy grenade but warned: "It could have been live."