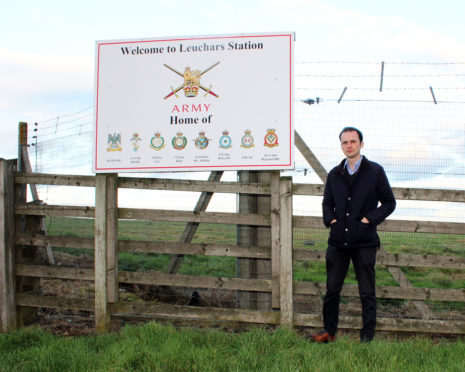 Safety at a Fife army base could be compromised and jobs put at risk by the UK Government privatising military fire and rescue services, it has been claimed.
The Ministry of Defence (MoD) will outsource the Defence Fire and Rescue Service (DF&RS), which currently provides 24-hour emergency service cover at Leuchars Station and is crucial to the safe operation of its diversionary airfield as well as the base itself.
Capita Business Services beat Serco to win the MoD contract, which involves the running of about 70 military fire stations worldwide and is said to be worth around £500 million over 10 years, despite a financial health assessment attaching the highest possible risk rating to the company.
The document awarded Capita a "health score" of just three out of 100 – with 25 or less deemed to be a warning of heightened vulnerability.
North East Fife MP Stephen Gethins has written to defence secretary Gavin Williamson calling for a rethink, suggesting the MoD has clearly not "learned lessons" from the collapse of Carillion and needs to ditch its plans.
SNP politician Mr Gethins said: "The privatisation of DF&RS is simply a cut-back in services which puts safety at risk.
"Capita was recently stripped of a £400 million maintenance contract and was rated with the highest risk warning via the MoD's own report, yet the Government thinks it is acceptable to award it this responsibility."
Leuchars DF&RS firefighter and Unite shop steward Mark McLellan warned the outsourcing will lead to job cuts, a poorer service and a risk to safety.
He said: "The ability to deliver is not proven on this scale and the chance of failure is high.
"The taxpayer is buying new vehicles for a private company to make money. Why, when the money could be spent in house for the MoD to utilise and provide the right cover and enhance its own fire service? The risk against failure is too high."
Mr McLellan also fears that any savings made through the contract would likely be wiped out, with reorganisation and restructuring costs on top.
An MoD spokesperson said: "This contract will deliver a more modern and agile defence fire and rescue service, by investing and improving in the whole range of firefighting infrastructure, equipment and training to improve fire fighter safety.
"Robust assessments have been made to ensure the financial health of suppliers ahead of any contract placement. We will monitor the performance of the supplier throughout the contract's duration."