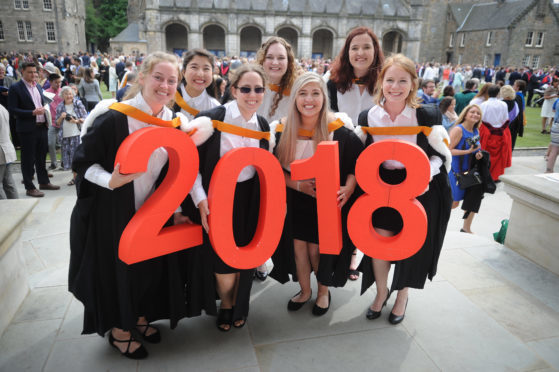 The University of St Andrews has been voted number one in the UK for its student academic experience.
The accolade was given for the tenth time in twelve years following a census of nearly half a million students carried out by the National Student Survey.
The 2018 results named St Andrews as the country's top mainstream university after carrying out the comprehensive analysis of the student community's views.
It found 94% of final year learners at the institution gave it top marks for the quality of learning and teaching experience – the same as it was in 2017.
The University of Dundee came joint second for satisfaction with 88% which has dropped by 2% from the previous year.
The Abertay University also experienced a slight drop but still placed a respectable eighth on the list of all Scottish institutions surveyed.
Students reported a 79% satisfaction rate compared to 84% in the 2017 survey.
St Andrews principal, Professor Sally Mapstone, said: "This is a terrific result and a tribute to the commitment of academic and professional staff across the University of St Andrews who provide an outstanding environment and experience for our students.
"St Andrews students recognise the exceptional quality of learning and teaching, facilities, and support at our University.
"We work in partnership with our students to ensure we continue to excel in this regard, and we take nothing for granted.
"These results demonstrate that those students joining our academic family in 2018 have made the right choice in calling St Andrews home.
"Scottish universities are setting excellent standards in UK education, and we are proud to lead in the NSS, and to demonstrate our deep-rooted commitment to academic excellence and the student experience."
Paloma Paige, president of the St Andrews Students' Association, added: "It is gratifying to see that these results reflect the unique student experience that we offer here at St Andrews.
"The Students' Association, the university, and individual students work throughout the year to contribute to that overall experience, contributions which make a positive and lasting impact."
Professor Sir Pete Downes, Principal and Vice-Chancellor of  Dundee University, added: "In Dundee the interests of students are at the heart of everything we do and student representatives are engaged at all levels of decision making.
"I am grateful to all our staff who really care about students, which shows in the consistent recognition that we provide one of the best student experiences anywhere in the UK."
Student satisfaction survey results 2018
1 – University of St Andrews – 94%
2 – University of Dundee – 88%
2 – University of Glasgow – 88%
3 – University of Aberdeen – 86%
4 – University of the Highlands and Islands – 85%
4 – The Robert Gordon University – 85%
4 – University of the West of Scotland – 85%
5 – University of Stirling 84%
5 – University of Strathclyde – 84%
6 – Queen Margaret University – 82%
7 – Glasgow Caledonian University – 81%
7 – Heriot-Watt University – 81%
8 – University of Abertay Dundee – 79%
9 – University of Edinburgh – 77%
9 – Royal Conservatoire of Scotland – 77%
10 – Edinburgh Napier University – 74%
11 – SRUC – 70%
12 – Glasgow School of Art – 67%