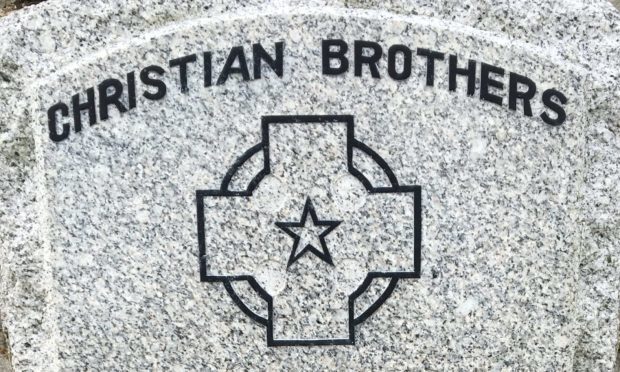 A 58-year-old mystery that led some villagers to speculate that a young boy buried in Falkland Cemetery was a "forgotten victim" of abuse has finally been laid to rest after the deceased's best friend got in touch with The Courier and said he died of natural causes.
Rumours had been circulating the Fife village that 14-year-old Alexander Harvey, who died in 1960, was a victim of the recently publicised abusive regime at Falkland's former St Ninian's School.
What makes Harvey's grave particularly unusual is that he is buried between two men of the Christian Brotherhood – Richard Albeus Fitton, who died at Falkland aged 75 in 1958, and John Kevin Nugent, who died aged 78 in 1977.
It led some locals to believe that Harvey, thought to be an orphan, may have died at St Ninian's in suspicious circumstances.
However, that suggestion is unfounded, according to 71-year-old George Ricketts, formerly of Edinburgh and now living in Morocco, who contacted The Courier this week after reading our coverage of the mystery from 2016.
The former Casablanca-based English teacher, who now helps teach Moroccan Arabic-English, said: "I was a young boy at St Ninian's at the same time as Alex, in fact one of his close friends.
"I was present on the occasion when he took part in the boxing match that led to his death.
"Alex was not a very physically fit person, and had a permanently pale complexion and blue lips, as if bloodless, perhaps, now I can say, due to bad blood circulation.
"He always came back the last and alone after any cross country running activity.
"He also took part in other sporting activities such as football.
"I remember him clearly boxing in the ring with his best friend James McDonald, a young boy from Inverness.
"At one point the match was stopped and Alex was carried out of the room.
"Next we heard he had died. I can confirm that there was no foul play. We were informed some days later that he died from some injury to his heart. I also, along with the whole school, attended his funeral in one of the cemeteries in Falkland village."
George explained that in his case, he spent his early years, from about three-years-old to 10 or 11-years-old, at Nazareth House, Lasswade, in the care of nuns.
He was transferred to St Ninian's at Falkland around 1959, and stayed there approximately three years because his mixed race parents (Belizian father and Scottish mother) were unable to set up home together due to "racist landlords". He was later reunited with his parents and siblings in Edinburgh.
George said he has read about abuse allegations at St Ninian's and other residential homes.
However, he was not aware of any problems during his time there.
He added: "Looking back, I believe there were many advantages compared to the local kids I came in contact with.
"There were many opportunities for taking part in various sports and activities. For example, regular running up and down the moorland hills and through the forests close to the school gave me and many other boys lots of pleasure.
"We once went on a school trip around France, taking in a visit to Lourdes, and swimming at one or two beach resorts.
"We were even permitted to keep small pets like hamsters, rabbits and mice.
"Every Sunday we were allowed to wander free in small groups of two or three in the countryside around the school or go into town and buy some sweets with the pocket money we received.
"Many boys were given small garden patches to look after and learn about growing plants.
"There was a small workshop were we learnt to make certain objects from wood. All the boys had a weekly task to assist in the cleaning of the living areas and classrooms.
"All in all, I think we were well looked after by the Christian Brothers that were present when I was at St Ninian's.
"That said, there was the odd or occasional punishment with a leather strap, but never any serious abuse."
The suggestion that Alexander Harvey may have been a victim of abuse emerged two years when former teacher Paul Kelly, 64, and head teacher John Farrell, 73,were jailed for 10 years and five years respectively at Glasgow High Court after being found guilty of abuse said to have taken place at the former St Ninian's school between 1979 and 1983.
Further allegations, not heard in court, had been made about physical and sexual abuse by other staff dating back to the 1960s into the 1970s.
As the ongoing Scottish Child Abuse Inquiry looks into the scale of the problem nationally, Falkland residents had expressed shock that St Ninian's School, which closed in 1983, was the setting for any such heinous acts.
According to one well established Falkland businessman, some older residents had told him there were rumours as far back as 1960 about abuse at the school, but nobody did anything about it because the Christian Brotherhood was seen as 'untouchable' in those days.
However, research by Falkland Fife councillor David MacDiarmid also suggested there was a more rational explanation for Harvey's death.
Having tracked down a copy of Harvey's death certificate, it states that the cause of his passing was "congenitally abnormal heart valve: diffuse myocardial fibrosis" – or congenital heart failure.
According to a registrar's report signed at the procurator fiscal's office in Cupar on March 3, 1961, Harvey died:"Shortly after having engaged in a boxing match under supervision at said orphanage. The boxing match was stopped immediately on the deceased complaining of being tired."