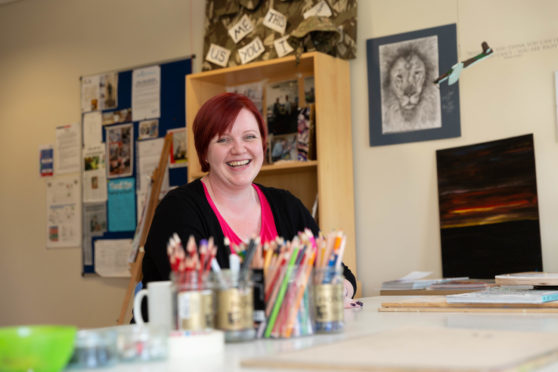 The wife of an injured Fife veteran has been selected to have her work showcased in a creative exhibition in London.
Julie Martin-Davy, 39, from Glenrothes, is one of 80 wounded, injured and sick veterans and their carers supported by military charity Help for Heroes to feature at its Creative Force exhibition in the Mall Galleries.
Her husband Mark was injured in 2009 on a training exercise with the Signal Regiment.
He suffers constant pain from lower spinal damage and needs a wheelchair. It has also impacted on his mental health.
Julie, who dreamed of being a children's book illustrator, studied graphic design at Fife College and had plans to continue her work at degree level.
However, moving around with Mark made it difficult to continue with her education and instead, she worked for WH Smith.
Mark currently works part time as an IT trainer, which enables Julie to also have a part time job but when she is not at work she is Mark's carer, and art is her only respite.
Julie said: "I did dabble in art over the years but once he was injured, I didn't have time.
"However, the training I had at college has stayed with me and I still have an eye for things.
When Mark is having a bad day, it drags me down too, but I have to stay positive and cheerful for him, which is exhausting and I feel trapped in the house because I can't leave him there on his own."
She has created an art room where she focuses on a piece of paper – and cup of tea– to take her mind off everything.
In 2017, the opportunity to design a Christmas card for Help for Heroes reignited Julie's love of art and gave her confidence to use her talents again.
"When I heard about the Creative Force exhibition, it was too good an opportunity to let pass and having my work accepted is amazing.
"I haven't exhibited since school.
"I am excited and nervous at the same time."
Thanks to the Creative Force exhibition, which runs until August 19 those supported by Help for Heroes can share their inspiring stories with the public and demonstrate how creative activity helps in their recovery.
Anyone looking for more information can visit www.helpforheroes.org.uk/get-support, or call Help for Heroes Recovery Centre North, which covers Scotland, on 01748 834148.
The exhibition also features online at creative-force.helpforheroes.org.uk.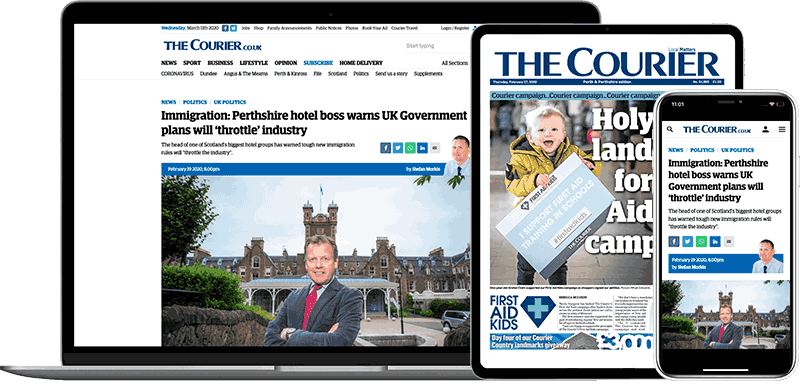 Help support quality local journalism … become a digital subscriber to The Courier
For as little as £5.99 a month you can access all of our content, including Premium articles.
Subscribe