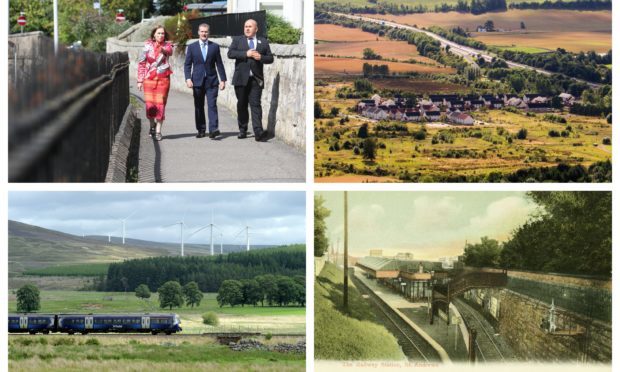 New rail links in Fife and Perthshire have come a step closer as the Scottish Government announced funding for studies.
Campaigners fighting for a new line to St Andrews and stops at Newburgh and Oudenarde were the first to receive grants from a new £2 million rail fund.
St Andrews Rail Link (StARLink) said the award of £40,000 was a "leap forward", while Newburgh Train Station Group said receiving £82,000, was great news for the town.
Some £97,000 has gone to transport partnership Tactran, which wants to establish a park and ride railway station at the new village of Oudenarde by Bridge of Earn.
The grants will fund multi-modal transport appraisals.
A study of traveller behaviour, including parking at railway stations in the Forth Bridgehead area, is also to be conducted by Fife Council, and was awarded £170,000.
After years of campaigning for St Andrews to be linked to the east coast main line, Jane Ann Liston, convener of StARLink, said: "This is a great leap forward. It is a stamp of approval from the Scottish Government.
"As a prime national and international destination, being the home of golf and Scotland's oldest university, the historic tourist destination of St Andrews has suffered for years from the onslaught of increasing traffic clogging up the town.
"The StARLink campaign believes that the option of direct rail travel from Edinburgh, including the airport interchange, and Dundee, to the town would significantly alleviate both the physical and environmental effects of too many cars in the a small town with a medieval layout."
Nigel Mullan, convener of the Newburgh group, said: "This is great news for Newburgh and a big help in addressing the transport issues long holding the town back.
"It also allows the community a seat at the table to continue shaping the case for change and how to improve the poor links it has with Fife and the rest of Scotland.
"Better and more streamlined transport connectivity will make a big difference to people's lives in the modern economy of the 21st
century. "
North East Fife MP Stephen Gethins said he was glad to see government support for two projects in his constituency.
He said: "A rail halt in Newburgh is particularly vital to the local economy and in encouraging investment and visitors to the area, as well as making access to
employment, training and education in the major Scottish urban centres far easier."
Fife Council said its transport study would give a better understanding of traveller behaviour and how access to the rail service impacts on travel in the Forth Bridgehead, including parking demand, access for longer distance trips and parking over-flow problems.
Convener of its economy, tourism, strategic planning and transportation committee, Altany Craik, said: "This money will help us look at ways of encouraging more rail travel with a view to better connectivity across Fife.
"It will also help us gather evidence to support future transportation plans, reduce congestion on our roads and across our bridges."
Announcing the cash at the site where St Andrews railway station once stood, Michael Matheson, Cabinet Secretary for Transport, Infrastructure and Connectivity, said: "Providing funding for these transport appraisals will allow the successful applicants to consider the transport issues and opportunities affecting their local communities."
The projects are among 10 around Scotland to share £681,000 awarded from the Local Rail Development Fund.
A campaign to re-establish the Levenmouth rail link is further along the line, an appraisal having already been conducted.
New railway station cold take shape on outskirts of Perth
A railway station is among the aspirations for a proposed new village on Perth's outskirts.
A grant of £97,000 from the Scottish Government has bolstered hopes that train travel will be an option for those who live in Oudenarde.
The money from the new £2 million Local Rail Development Fund will pay for a multi-modal transport appraisal of how those who live in the 1,500-home community by
Bridge of Earn would travel to Perth and south towards Edinburgh.
Tayside and Central Scotland Transport Partnership (Tactran) will conduct the study with Perth and Kinross Council.
Councillor Brian Gordon, Tactran chairman, said: "I welcome the announcement from Transport Scotland of the successful bid for a study to look at improving transport choices for the people of Bridge of Earn, including considering a new park-and-ride rail station."
A council spokesperson said: "Tactran and Perth and Kinross Council submitted a joint bid to Transport Scotland for funds to consider multi-modal transport options that provide a realistic alternative to car travel to, from and within Bridge of Earn and will also consider travel between south/west Perth, Fife and Edinburgh.
"In particular, consideration will be given to options that will improve door-to-door journey times by public transport to these important employment areas.
"The study will consider, amongst other options, the provision of a new park-and-ride rail station associated with the proposed new development at Oudenarde."