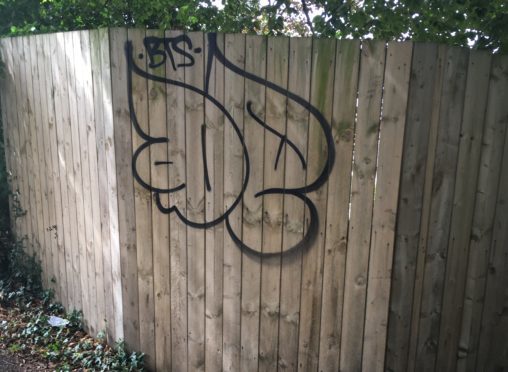 Graffiti tags appearing around the Tay Bridgehead have prompted an appeal to the public to help trace those responsible.
What look like initials have been sprayed around the area, particularly in Leuchars and Newport but also on road signs to St Andrews and on the A92 south of the Tay Road Bridge.
Tay Bridgehead councillor Jonny Tepp said the graffiti had been reported to police and urged anyone who knew who was behind it to get in touch with him.
Liberal Democrat Mr Tepp said: "It is sometimes argued that graffiti is street art but this is not Banksy and no skill or beauty is being demonstrated here.
"If the individual or individuals can be identified police and youth services can work together with them to develop projects that allow them to express themselves in a more positive way.
"We can hopefully work with them to put a stop to this behaviour, to benefit them and the communities they are despoiling.
"The cost to the community of removing graffiti is high, both to the council, private utility companies and individuals, all of whom have found themselves responsible for cleaning up after those responsible in recent months."
The unsightly graffiti was first reported to police in June, and officers are investigating.
It has continued to appear and Mr Tepp said that in recent months he had asked several organisations to remove or paint over graffiti on their property, including Royal Mail, Network Rail, BT Open Reach and Scottish Water.
A Police Scotland spokesperson said: "Police in Fife are investigating following reports of concerns over graffiti in the Newport and Leuchars areas.
"Inquiries are ongoing and anyone with information is asked to contact Police Scotland via 101, quoting incident number 1020 of June 6 or to Crimestoppers anonymously on 0800 555 111."