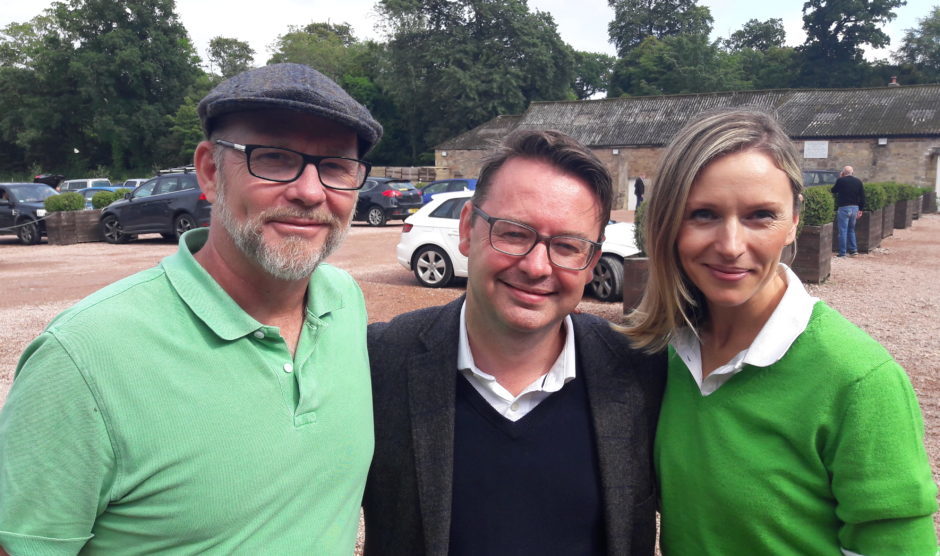 Film star turned director and presenter Jason Connery hopes that a new television series pilot he is co-presenting will make "golfing widows" realise there's more to St Andrews than just golf.
Mr Connery, who filmed the golf movie Tommy's Honour in and around the town several years ago, has returned to St Andrews as part of the US-led team making 'The Golf Explorers'.
Jim Kreutzer, the US-based producer of Tommy's Honour, and Maryilene Blondell, co-CEOs of Wind Chill Media Group, have partnered with David Spitzer of Upper Diamond (Los Angeles) and Terry Maday at Maday Productions (Chicago) to create what they describe as a "hip lifestyle programme".
Speaking to The Courier as the team filmed at the Balgove Larder in St Andrews, Mr Connery, who used to visit the Home of Golf with his film star dad Sir Sean, said: "The game of golf is quite polarising – you've got people who love it and people who hate it.
"There aren't many people who don't know how they feel about it.
"But what I think is nice about what's certainly happening with this programme is that it's not all golf-centric – it's about St Andrews as a whole.
"The epicentre of St Andrews is probably the Old Course, the R&A and all that. Everything might start from there.
"But there's so much more to the town and that's what we are digging into. We're explorers.
"What's lovely is that if you are married to someone who is a golfer and you never go on their trips, you might say 'I'll go with you' – which may not be a good thing! – but they can go to these other places."
The Golf Explorers is a first of its kind, unscripted, lifestyle driven travel series with golf as the main ingredient.
Viewers will follow three hosts as they explore the world's greatest golf courses and the surrounding town – uncovering historical and lifestyle gems you won't find in a travel guide, all the while meeting unforgettable characters that are woven into the fabric of each championship course.
Each show will feature three hosts, whose journey through each iconic golf town will be cultivated by the people they meet along the way, delivering an interactive and immersive experience."
The St Andrews episode will be hosted by Jason Connery, Di Dougherty (Sky Sports) and St Andrews golf historian Roger McStravick.
The  team are visiting locations this week including the Balgove Larder, Kingsbarns Distillery and the Kingarrock Hickory Golf Course near Cupar.
*More in-depth 'behind-the-scenes' interviews will appear in a future edition of The Courier Weekend magazine.