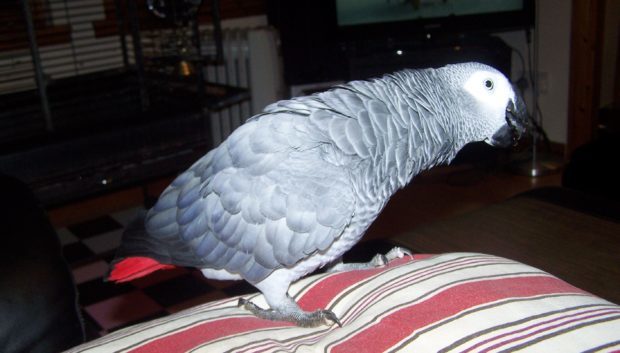 A chip-loving parrot who can mimic a microwave has flown the coop in Fife.
The search is on for nine-year-old African grey, Zoshka, who flew off her owner's shoulder as she hung out her washing in Crail.
Now Aleksandra Trzcinska is so desperate to see the return of her beloved pet, who can fly up to 50 miles, she has put up a £500 reward for her return.
Aleksandra, who lives in Dorward Drive with partner Kevin Joubert and five-year-old daughter Julianna, said there had been possible sightings of Zoshka since she went missing a fortnight ago but nothing concrete.
"She's always on my arm around the house," she said.
"I was hanging up laundry on my balcony, she was on me and a big noise scared her and she flew away.
"It's a big mistake I made. I thought she would never fly away. I miss her. She was my first baby."
Alexsandra described Zoushka as stubborn but very tame and said her pet would never be as rude as the one that swore at a London firefighter during a rescue attempt earlier this week.
"She's a bit of a nutter. She would say 'hiya' or 'come here' but she needs to be in the mood for it.
"She doesn't know swear words but she does mimic the sound of phones and the microwave being turned on."
Aleksandra said the parrot would be attracted to fruit trees and bird feeders but described her as very greedy.
"She loves crisps and chips so I had expected her to land somewhere around the area where people would be eating outside but she's not appeared yet."
The bird, said to be the size of a pigeon, had been spotted near the bowling green and at Beach Walk Park.
"One was found in Glenrothes last week when it landed on someone's shoulder but it wasn't mine," she said.
"Mine is microchipped."
Aleksandra urged anyone who spots Zoushka not to scare her by trying to grab her.
"It's better to attract her with food. She might even come into the house – she's very tame.
"She shouldn't be scared of people.
"These parrots can live for 60 or 70 years and I was meant to give mine to my daughter if I die. I'd really like her back."
Anyone who spots Zoushka should call Aleksandra on 07538 370 081.