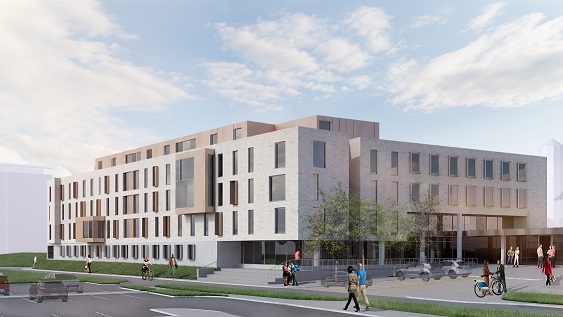 Female pioneers from the UK and USA will be honoured by St Andrews University.
Two new student halls of residence are to be named after inspiring figures with strong connections to the ancient university.
American golfing pioneer Renee Powell and the British journalist Katharine Whitehorn will each have a new residence take their name.
The new halls, at North Haugh and St Leonard's Road, are part of a £70 million investment in student accommodation by the university to create 900 bedrooms in addition to the 4,000 the university already provides.
Powell Hall, which has 205 rooms, and Whitehorn Hall, which has 184 rooms, are due to open in October.
Ms Powell is an American professional golfer and the second African American woman ever to play on the LPGA Tour.
After beginning her professional career in 1967, she has played in more than 250 tournaments around the world.
‌She is known for her work to attract more young female golfers to the sport and was awarded an honorary doctorate by the university in 2008.
Renee said: "To receive such an unbelievable honour and to forever be a part of one of the most prestigious universities in the UK is too difficult to express in words.
"I have always considered myself as a citizen of the world and I guess now I will forever be remembered as such.
"I feel this is truly an historic and awesome occasion for a renowned university to recognise a black American female golfer in such a manner.
"It says so much about the vision and heart of the leadership."
Ms Whitehorn is a British writer and columnist famous for her wit and observations on the changing role of women.
She wrote for Picture Post and was a staff columnist on the Observer for 36 years.
She was a member of the Latey Committee on the Age of Majority in the UK, the body which recommended the voting age should be lowered from 21 to 18.
In 1982, students at St Andrews voted to install her as Rector, making her the first woman to hold the post at any university north of the Border.
In her address to students in the Younger Hall, she said: "The fact that St Andrews has the first woman rector in Scotland says something for your open-mindedness…even if one or two of the more unreconstructed members of the (men only) Kate Kennedy Club do think it is the most curious appointment since the Emperor Caligula made his horse a Consul."
Ms Powell will visit St Andrews next month when she will cut a ribbon at the hall which will bear her name.