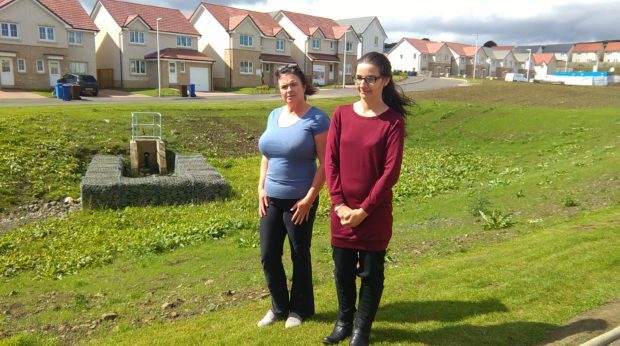 Residents of social housing in Cowdenbeath claim a drainage pond on the scheme poses a danger to local children.
The sustainable urban drainage system (SUDS) pond situated next to the future site of a playpark at White Threshes Road is among a catalogue of concerns raised by people living in the street.
They also claim shoddy workmanship by developer Bellway has left a legacy of repairs that Fife Council has had to pay for.
Fife Council maintains the authority has incurred no additional costs and Bellway said it had "attended to all matters for which we have been responsible in line with National House Building Council (NHBC) recommendations".
But residents say the council has been "left to pick up the pieces" after the homes were handed over by Bellway.
"There are 50-odd kids in the street and I fear for their safety," said Margaret Davidson, 38.
"Once the playpark opens, what's going to happen if a little kid falls in there?"
Joanne Rankin, 48, said there was no safe open space where she could let her grandchildren play, adding her garden had been "like a mudbath".
The council will soon be starting work to improve drainage.
Conservative councillor, Darren Watt said: "The inconvenience and stress tenants have been subjected to is completely unacceptable.
"While Fife Council and Bellway squabble about who is responsible for repairs and future costs, it is the tenants and their families that are suffering. For many, this was supposed to be a dream move and it's turn into a living nightmare.
"Regardless whether the SUDS basin is dry or full of water, it still poses a risk and residents have rightly expressed their concerns.
"These concerns must be listened to and addressed accordingly. It is clear this is simply a cost saving exercise by not installing a partial fence or barrier.
"No one wants to say we told you so if an incident occurs."
Council service manager Louise Sutherland said: "Tenants have reported defects to us, as their landlord, but these are passed on to Bellway Homes to rectify.
"The council is arranging and paying for radiators to be added to hallways, as we didn't include these in the original specifications for the build.
"Similarly the drainage issues in gardens aren't classed as a defect. They're quite common in Fife and landscaping work to help improve the situation is due to start next week.
"The SUDS basin is designed to be generally dry and not act as a pond and therefore Bellway decided not to install a perimeter fence. However, this is in accordance with current Scottish Water guidance."
A spokeswoman for Bellway said: "Bellway have attended to all matters for which we have been responsible in line with NHBC recommendations. This has included previously attending to some localised areas to prevent waterlogging within three metres of properties and replacing and making minor adjustments to some doors."