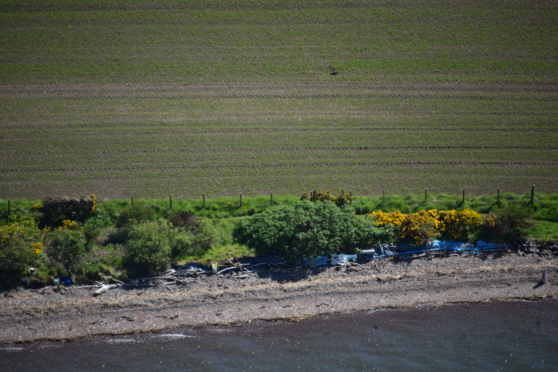 Litter hot spots around Fife's coast have been revealed in a map built using aerial photography.
Plastic, pipes and other rubbish were snapped in isolated locations at Tayport, Newport, Leuchars, Crail, Buckhaven and East Wemyss.
Tarpaulin and plastics bags were also pictured at Tayport, where the project involving the Marine Conservation Society found significant and widespread accumulations of waste.
Significant build-ups of rubbish were also recorded in 14 more localised areas around the other towns and villages.
It is hoped teams on the ground will use the data to target the hot spots, which may otherwise have remained undetected, in beach clean-ups and litter survey work.
SCRAPbook – Scottish Coastal Rubbish Aerial Photography – saw pilots from the Sky Watch Civil Air Patrol photograph parts of Scotland's coastline where they spotted litter or pollution.
The scale of the problem was worse than those behind the project expected.
Archie Liggat, Sky Watch chairman, said: "In the worst areas it is absolutely at industrial levels, with plastic blasted up the hills from the coast where it's been blown.
"There are hundreds and hundreds of large plastic barrels and crates all over the place, and when there is any large plastic litter visible at all there's usually a significant amount of smaller stuff too."
Catherine Gemmell, Marine Conservation Society Scotland conservation officer, coordinates the mobilisation of thousands of volunteers around the Scottish coastline to clean up beaches but until now many bays have never been touched.
She said: "With nearly 10,000 kilometres making up Scotland's mainland coast we know there are many stretches of beach that have had no recorded clean up.
"SCRAPbook will help address that and provide us with new information that will be crucial to highlight to government and industry what steps we need to be taken next in the fight against marine litter."
Litter hot spots were classified on a scale of one to five, with five the worst. Most in Fife were classified at two, but the one at Tayport was level three.
The map is available online and people can click on locations to see what sort of waste was recorded.
Vicky Junik, of the Moray Firth Partnership which started the SCRAPbook idea, said: "We hope that SCRAPbook will become an invaluable tool to everyone tackling the rising tide of marine litter.
"The easier it is to find out where the litter is, the easier it is to mobilise clean-up efforts, and we've tried to focus on the less popular or harder to reach parts of the coastline, so we can build a really comprehensive picture of the reality and scale of the challenge; a challenge everyone can help tackle."
Mairi Gougeon, Minister for Rural Affairs and the Natural Environment, said: "Litter washed up on our coastline is a scourge that harms our natural environment, both in the sea and on land. That is why I welcome this exciting project that enables the extent of litter around our coastline to be proactively mapped."