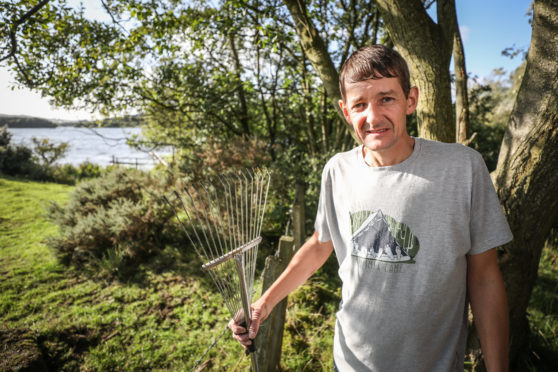 A woman left bloodied and bruised in a terrifying attack by cows was saved by a hero who fought them off with a garden rake.
The victim was reportedly being stamped on by cows in Lochore Meadows Country Park until Tam Cotter, who was tending his garden nearby, ran to her aid.
Tam, 44, was hailed "an absolute hero" by Donna Clark, another walker who tried in vain to frighten the cattle away with her dog's lead.
He told how he was working in his garden in Glencraig when he heard shouts change to "terrible screams" and guessed instantly what had happened.
He said: "When I got there the woman was on the ground in the foetal position and her poor dog was hiding in a bush.
"The cows were stamping all over her. There were about a dozen of them."
Tam shoved at the animals, one of which had horns, until they retreated enough to allow the woman to escape.
She was given first aid at the park's outdoor education centre and later attended hospital, having sustained bruising and a cut nose.
Tam said: "It could have been much worse. People don't realise that although cows are usually docile are still animals."
The woman had her dog on its lead as she tried to pass through the cows' field, which is crossed by the path round Loch Ore, but it is believed the herd, which includes calves, had been spooked by another dog moments earlier.
Park manager Ian Laing said: "Hundreds of people a day pass through that area and we have a weekly parkrun with 150 runners and we have had very few incidents involving people and cows.
"I think something happened yesterday before this lady came on the scene and the cows have been agitated."
He was due to meet the farmer to discuss what action could be taken to try to prevent a similar incident or to warn people of the danger.
He advised: "When people are in an area with cows they should put their dogs on a lead and if cattle do come towards them they should let their dogs go to minimise the risk to themselves."
Warning of the incident on Facebook, Donna, who was walking a short distance behind, said she saw the woman go through one of a series of gates on the path then heard her scream and saw cows "mauling" her.
She wrote: "She was lying face down at the back of the gate and I was on the gate hitting them with my dog's leash and screaming and shouting but they wouldn't stop."
Inchgall Farm declined to comment on the incident.
In June a 20-strong herd of cows escaped from the farm and roamed the streets of Crosshill when a stick was deliberately lodged in the mechanism of a swing gate in the same area.