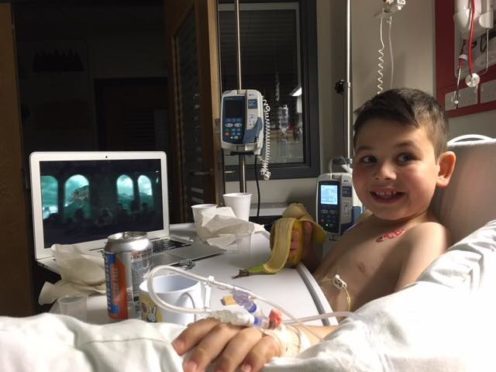 A brave Fife schoolboy is recovering after receiving a new kidney, donated by his own mother.
Milo Carter, 8, is said to be doing well following the lengthy transplant operation which saw mum Sarah donate her kidney to her remarkable son a few days ago.
Milo, from Auchtertool, has been battling adversity throughout his young life, having undergone heart surgery at just five days old, had cancer twice and had both kidneys removed.
The family hopes the sacrifice Sarah has made will mean Milo will have a much better quality of life.
Milo's grandparents Robert and Marion McFarlane revealed how the ypungster's father Kevin had also been in line and willing to donate his kidney to his son. After that fell through, Sarah stepped into the breach.
Marion said: "It's been a very traumatic week.
"But Milo just takes everything in his stride and it's just unbelievable what he's been through. We call him our little Tonka truck because he just keeps going and going.
"We're so proud of them after all that's happened."
At just 72 hours old, Milo suffered heart failure and was rushed to hospital where he endured a nine-hour operation to repair his heart.
The anguish didn't stop there as Milo was dealt another blow in April 2013, when he was diagnosed with a Wilms tumour.
With rare and aggressive cancer in both kidneys, scans also revealed it had spread to his lungs and liver, meaning Milo had to undergo intensive chemotherapy.
Through it all Milo has been an inspiration, remaining cheery and upbeat.
He continues to study hard at school, enjoys playing the piano, attending Beavers and Rhas inspired many fundraising events.
Following the family's latest ordeal, Milo is now looking forward to having a Pringle party, where he will be able to enjoy the crisps he has been unable to have for so long.
Milo's achievements were recognised at Friday night's Kingdom FM Local Hero Awards, where Robert and Marion picked up the Child of Achievement Award on their grandson's behalf.
Robert said: "It's been a little stressful to say the least.
"The first test results say everything is working well so fingers crossed."
A spokesperson for charity Kidney Kids Scotland posted a picture on social media of Milo eating his first banana in two years and has wished the family well.
"We are so delighted to hear that everything has gone to plan for Milo's transplant and in Sarah's words Milo 'is doing brilliantly'.
"We are also very glad to hear that Sarah, who was Milo's donor is also recovering well. Transplant will make such a difference to Milo and his family and I am sure you will join with us by wishing them all the very best."