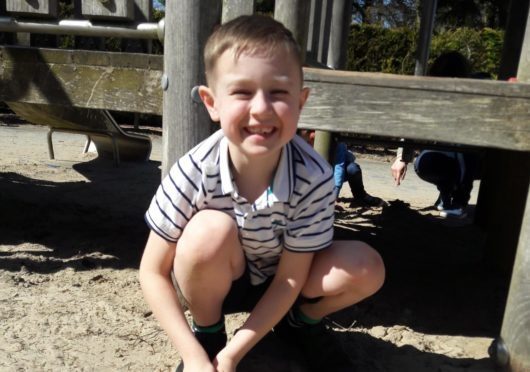 For most eight-year-olds, starting primary four is no big deal.
But for Rosyth boy Michael Gartshore the seemingly small step is a huge milestone as he battles the rare and potentially life-threatening condition aplastic anaemia.
With his new Star Wars schoolbag on his shoulder, Michael will rejoin his classmates at Kings Road Primary on Tuesday for the first time since his devastating diagnosis in May.
Two weeks into the new term, he will be greeted with open arms by friends who have been missing his cheery face in the classroom.
Michael's mum Tracy said the youngster was really excited but would only be returning for an hour on Tuesdays and Thursdays to start with.
"We don't want him to be overwhelmed so he's just going back for a wee while to start with and we can maybe add a couple of hours on when it's reviewed in a few weeks," she said.
"The way Michael's treatment plan was set out at the start, right now he should be in hospital still having chemo so this is obviously much better than anticipated."
Tracy added: "Physically, he's done really well and he's bounced back from everything so quickly but the mental thing has been bigger because he's more or less been in isolation away from all his friends.
"It will be so good for him to get back to school.
"He's got his wee Star Wars bag  and a camouflage jacket that matches his pencil case and he thinks it's the best thing in the world."
Due to Michael's illness his blood counts are low and the family have been warned he is very susceptible to infection.
"What are simple bugs to most children can be life-threatening to children with weakened immune systems so we are pushing the message at Michael's school about following the 48-hour rule for sickness bugs," Tracy added.
Michael's return to school is the second piece of good news for the Gartshore family in recent weeks.
While the youngster may recover on his own, there is the chance he will need a stem cell transplant to beat the illness which can cause uncontrollable bleeding and increase the risk of infection.
It was discovered last month that his three-year-old sister Charlotte is an exact match and could be a donor if necessary.