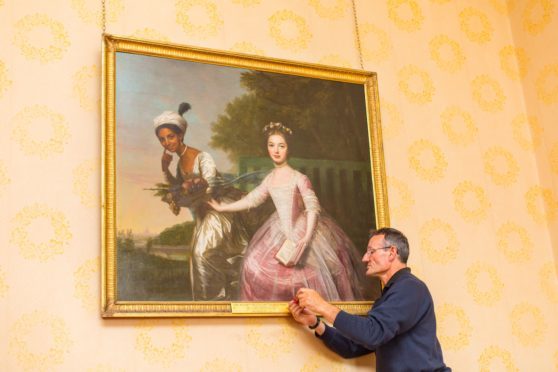 The long-running mystery of the artist behind a painting at Scone Palace has been resolved in a TV investigation.
Art expert Philip Mould looked into the history of the Dido Belle and Lady Elizabeth Murray portrait and discovered it was painted by Fife-born artist David Martin.
The painting at Scone Palace had long been attributed to German Johann Zoffany, until it was put under the spotlight as part of BBC One's Fake or Fortune.
Paint samples, x-ray imagery and studies of other paintings at the palace revealed Martin, born in Anstruther in the 18th century, was the artist behind the commission.
Martin painted hundreds of portraits in his lifetime, including one of Benjamin Franklin which hangs in the White House, David Hume and William Murray, the 1st Earl of Mansfield.
It was the Earl of Mansfield who brought up Dido Belle, the mixed-race daughter of an African slave, after her British naval captain father, Sir John Lindsay, brought her to the UK.
The Murrays were already guardians to their niece, Lady Elizabeth Murray and brought up Dido as a free, educated girl at their home at Kenwood House, Hampstead.
The portrait was painted at Kenwood in about 1779 and features St Paul's Cathedral in the background. Lady Elizabeth and Dido Belle are sitting on a bench, with Dido seeming to coyly point to her face while holding a bowl of fruit.
The work has now been formally attributed to Marin with a new plaque, making it the 10th of his paintings at Scone Palace.
During the Fake or Fortune episode, Mould drew similarities between the Dido painting and one hanging in the private drawing room of Lord and Lady Mansfield at Scone Palace. The portrait of Lady Marjory Murray is similar, with the same attention to the fabric, flowers in her hair, the colour of her lips and, tellingly, a finger resting on her face – as Dido is portrayed.
Lady Mansfield said: "This was an extraordinary journey and I'm so grateful to the team at Fake or Fortune for taking the time to look into this.
"The painting is very precious to us as a family and admired by the many visitors to Scone Palace.
"I can't believe the clue to the mystery painter – the portrait of the Lady Marjory Murray – has hung in our drawing room for years, quite literally staring us in the face."
Lady Mansfield will host an event at Scone in November to tell the story behind the painting and give a tour of previously unseen parts of the palace, including other Martin portraits.