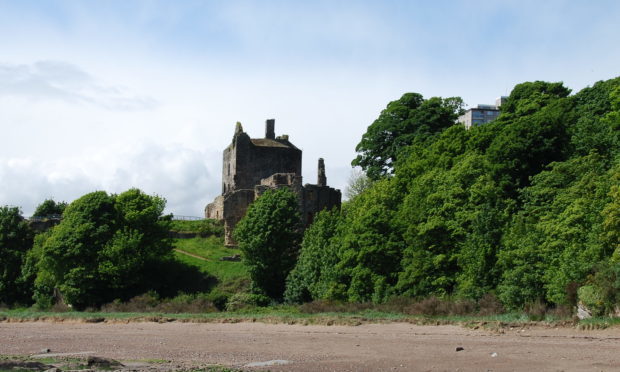 An ancient castle is to undergo a modern makeover in a bid to attract tourists.
The ruins of Ravenscraig Castle in Kirkcaldy will be fitted with the latest technology, including the use of an interactive smart app, to offer an entertaining guided tour of the site.
A 3D jester, pirates and a cannon that can be fired will all be on offer thanks to the magic of augmented reality.
Built by King James II of Scotland in the 1400s, Ravenscraig is a hidden gem, despite its prominent position overlooking the Firth of Forth.
That is likely to change however, thanks to a project known as In The Footsteps of Kings, which will see key royal sites in Fife brought to life.
Run by Fife Cultural Trust (FCT), the project is supported by the Heartlands of Fife tourism strategy, which covers mid Fife, and Dunfermline Heritage Group.
It is hoped local school children and businesses will get involved, with the ultimate aim of Ravenscraig Castle becoming one of the project's most visited sites.
Members of Fife Council's Kirkcaldy area committee will be urged to get behind the initiative at its meeting on Tuesday, when they will be asked to allocate £42,000 towards its cost.
FCT has secured £190,000 of matched funding.
Councillor Ian Cameron, chair of the project group, described the idea as very exciting.
"It is about developing new ways to engage to encourage more fully with what is on their doorstep," he said.
"The process includes 360 degree photography of a site and the inclusion of augmented reality to encourage engagement."
He said the 3D jester, probably between 30cm and 50cm tall, would provide facts and an augmented reality cannon would be used to fire on visiting pirates.
"We are hoping to talk to local schools to see how their own project curriculum can be more engaged with what we are doing," he said.
Mr Cameron said the first step would be to make the site safe for younger visitors.
A report to Tuesday's committee warns: "There are areas around the promontory that are open and could result in a lethal fall as the barrier is not suitable for retaining young children.
"Stone retaining walls will be upgraded and new security fencing will be installed. The steps leading down to the beach are also in a dangerous condition and need to be replaced."