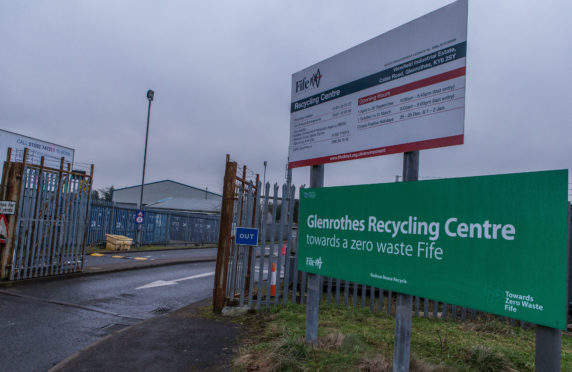 When access changes came into effect at Fife's 11 household recycling centres, the doom-mongers were also sparked into life.
But while some predicted a rise in fly tipping, I was willing to accept the reasoning behind the move.
Around £2million a year was being spent on disposing the waste of commercial businesses, and plenty of traders weren't paying for the privilege.
Fast forward to now, and even more extreme measures are in the pipeline.
Proposals to restrict double axle trailers are expected to be introduced in the New Year, and pedestrians will be banned – largely because commercial traders have been parking outside centres and taking their stuff in on foot to avoid paying fees.
Opponents have likened the moves to using a sledgehammer to crack a nut and say bona fide users will be punished.
And now changes to the operating hours are putting even more obstacles in our way.
We get that staff need a break, so closing the centres at lunchtimes for 45 minutes or so is absolutely fine.
But in today's world, where people are working longer hours with more demands on their time, where's the sense in having facilities solely open from 9-5?
And that's if they're open at all.
Granted, I probably should have checked first, but having humphed an old fridge from my back garden into the car and to my nearest recycling centre it was something of a disappointment to find out it was closed on a Tuesday.
A wee bit more investigation revealed some are closed on a Monday and a Thursday, some on a Tuesday, one is closed on a Wednesday, another on a Wednesday and Friday……
You get the drift.
Fifers don't mind a bit of effort. You only need to see how well the kerbside bin system is now working.
But putting more hurdles in the way is only going to fuel the naysayers further.
I've noticed an increase in piles of rubbish strewn in fields or by the side of roads in my neck of the woods.
I'd be interested to hear if it's happening elsewhere. If that is the case, then perhaps it's time for another rethink.