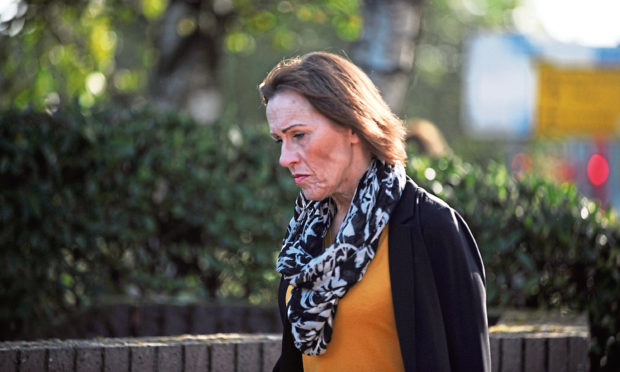 A 59-year-old woman, on trial for having sex with a 14-year-old boy on a balcony in Ibiza, has claimed she was raped by him when his mum and gran were in the flat.
Gail Dickinson said the boy struck her as she sat looking at holiday snaps on her tablet.
She claimed he then chased her on to the balcony of the apartment and "tried and tried again" to have full sexual intercourse but she fought him off.
The teenager's grandmother previously told the trial she saw the sex romp taking place in the middle of the night but was too shocked to intervene.
Dickinson, of Bilsland Road, Glenrothes, denies she engaged in sexual activity with the boy on June 13 last year at apartments in San Antonio.
She told Dunfermline Sheriff Court yesterday that she had been drinking with the boy and his mum on the night in question before the mum went to bed.
She claimed the boy sexually assaulted her "right out of the blue" as they were looking at photos on her iPad in the living room of the family's holiday flat.
"I managed to push him back and I was saying, 'No, stop it, stop it.' I ran out on to the balcony and he came charging after me," she said.
Dickinson said full sexual intercourse did not take place despite the boy's efforts. "He tried and he tried but I managed to get away from him," she went on.
"I was disgusted. I've been known as a bit of a prude all my life," she added.
"I'll never forget the fixated look on his face. I was terrified. He was obsessed with having sex with me."
Dickinson said she remembered nothing about the incident when she woke up the next day but the boy's gran accused her of raping him.
She claimed she made "a pact" with the boy's mum not to inform the police.
In the days following the alleged offence, Dickinson sent repeated text messages to the woman.
One said: "I cannot bear it if anyone finds out about this."
In another she said that on the night of the incident she "needed some comfort or love".
During cross-examination by depute fiscal Azrah Yousaf, Dickinson denied she was a "sexual predator" and said it had been "umpteen years" since she had sex, after an abusive relationship.
Ms Yousaf said: "I have to suggest to you that you are a sexual predator. You plied this boy with drink and had your way with him. Then you cried rape which is a despicable accusation. You've told us nothing but lies today."
"No, I've told the truth," replied Dickinson.
The trial before Sheriff Charles MacNair continues.