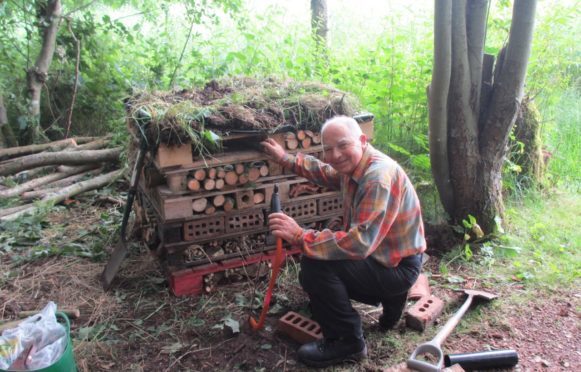 The management of nature reserves and country paths across Fife is being put at risk from challenging budget cuts, it has been revealed.
Fife Coast and Countryside Trust has warned it may have to withdraw services from everywhere other than the region's 14 award-winning beaches, the coastal path and the Eden Estuary Local Nature Reserve unless the savings are reinstated.
This means it would no longer be able to carry out duties at the Lomond Hills Regional Park, Birnie and Gaddon Lochs, Dalbeath Marsh, Coul Den and Craighall Den.
The charity said it would also not be in a position to help with core path works away from the coast, including the soon to be opened Fife Pilgrim Way.
In a letter to Fife Council co-leaders David Ross and David Alexander, trust chairman Stephen Carter said: "The failure to have appropriate arrangements in place will not only be an embarrassment at local and national level but also a blow to the aspirations to open up tourism in mid-Fife."
The management fee given to the trust by Fife Council to help it carry out its work has been cut by £242,000 since 2015 and no decision has been taken around future budgets.
In his letter, Mr Carter said: "The resources available based on the current services fee are effectively adequate for delivering services along the Fife coast and no more."
He added: "The trust will also have extremely limited capacity and capability in supporting and responding to emergency situations which, with climate change and other factors, appear to be increasing."
The news was met with alarm by Fife Council's two opposition leaders.
Conservative Dave Dempsey and Lib Dem Tim Brett both criticised a lack of scrutiny around the budgets given by the council to arms' length organisations.
Mr Dempsey said: "The relationship between what we are paying these organisations and what we are expecting from them is very difficult to decipher.
"A lot of people, who are quite frankly financing the whole thing, do care about this."
Mr Brett added: "These are key services and we as elected members are supposed to be in charge yet we're not even being told of these things.
"The trust is responsible for all these things that we all use and get the benefit of so this is a major problem."
Andy MacLellan, the council's community projects team manager, said no decisions on future financial support would be made until trust budgets had been discussed with elected members.
"Over the past few weeks, Fife Council has run a number of constructive workshops to consider the management fee position with FCCT," he said.
"As part of this process, the trust is currently developing a business plan which will outline the services it will be able to provide across a range of funding scenarios."