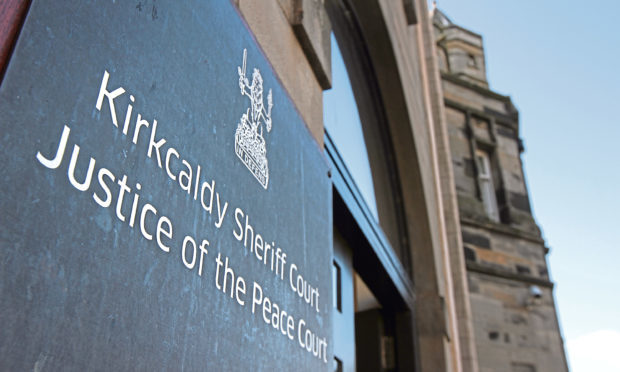 A drug addict told police his friend tried to sell a television that was allegedly stolen from the home of a fire victim for £40, a court heard.
John Watters, 46, told Kirkcaldy Sheriff Court he was offered an LG television the day after Kevin Stewart is accused of stealing it from the flat of Scott Kerr.
Mr Kerr died in a blaze in his home in Waggon Road, Leven, in February last year.
Stewart, 41, a prisoner in Perth, is accused of breaking into the property on March 3 and stealing a television and a computer console, controller and games.
He denies the offence and has lodged a special defence of incrimination, claiming it was committed by Kay Fleming.
Mr Watters, of Leven, told a jury it was Miss Fleming who offered him the 42-inch television and that Stewart had carried it for her to his wife's house.
Procurator fiscal Ronnie Hay quoted a statement which he said Mr Watters had given to police shortly after the alleged offence.
In it, Mr Watters said Stewart "came into my house and asked if I wanted to buy it for £40".
Mr Hay said Mr Watters had told police Stewart "said he needed the money so he could go and score, by that I mean he wanted drugs".
However, in court Mr Watters insisted: "Kay Fleming offered me a telly, it didn't work so I didn't buy it. Kevin was with her at the time."
He said the police officer who recorded his statement must have been lying.
Mr Watters refused to respond to several questions put to him by Mr Hay, saying he had "had enough", before the trial before Sheriff Jamie Gilchrist was adjourned until Wednesday.
A neighbour of Mr Kerr, who alerted police to the alleged break-in, earlier told the court he spoke to a man in a high-vis jacket outside his flat several hours before the late-night incident.
Thomas Ward, 63, said the same man had been in the stairwell twice that day, the second time with a woman, and had asked him about Mr Kerr's funeral.
Giving evidence for the prosecution, Miss Fleming previously told the court she helped Stewart force open Mr Kerr's door to look for drugs but was "disgusted" when she learned whose flat it was.
She told police she had only been the lookout, the court heard.