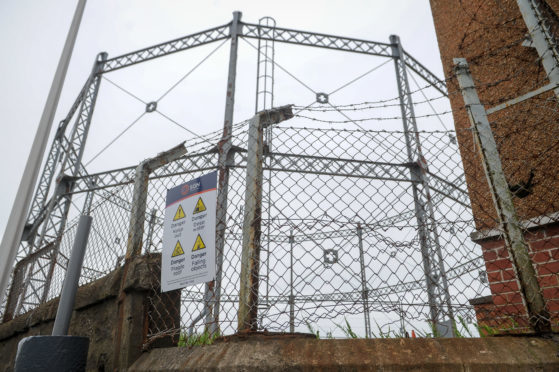 Dunfermline's "eyesore" gasholders will stay in place after an appeal against their B-listing was thrown out.
SGN, which owns the hulking Grange Road structure, lodged an appeal against Historic Environment Scotland's grading to the Planning and Environmental Appeals Department.
The energy giant won the backing of a cross party group of local politicians, including councillors, the town's MSP and MP.
They argued the frames would need to be repainted at an estimated cost of £300,000 – a figure which could triple if the listing remained in place.
Their retention would also make regeneration of the site difficult.
On the other side, HES argued the two gasholders were "a striking example of historic industrial infrastructure".
The Scottish Government reporter agreed, saying he was satisfied their age and particular rarity justified the listing. The news has come as a bitter blow, locally.
Dunfermline and West Fife SNP MP Douglas Chapman doubted they added anything to the value of Dunfermline and wondered if the decision may actually have the opposite effect and make the area harder to redevelop.
"I will be interested to find out from Historic Environment Scotland how much they intend to invest in the gasometers to maintain them in a safe condition and if they are willing to compensate SGN on the basis of the opportunity cost of not having the site developed," he added.
Slamming the decision as short-sighted, local Labour councillor Garry Haldane added: "Although they are classed as industrial heritage I see no purpose in this unless SGN had plans to include them in some kind of visitor attraction or something similar.
He dubbed them an eyesore for Izatt Avenue estate.
"Every resident who I have spoken to regarding this has the opinion that they should be demolished.
"These gas tanks will blight the landscape for many years to come.
"If they were allowed to be demolished there would have been many benefits to the local community, rather than a hazardous area where children will be tempted to play in and an ugly view.
Hannah Brett, spokesperson for gas network company SGN, said the company is disappointed the gasholders remain listed.
"With these structures no longer in use, it's not sustainable for us to keep them in a safe and visually acceptable condition long term.
"Ensuring the continued safety of these sites is our key priority and we will now consider our options for their future in collaboration with the relevant local authorities."
A spokesperson for Historic Environment Scotland said: "Scotland's industrial landscape forms an important part of our heritage, and we are pleased that our decision to list the gasholders in Dunfermline due to their significance and rarity was upheld by DPEA.
"Listing recognises special architectural and historical interest so that this heritage value can be taken into account within the planning process, and does not prevent development.
"We would welcome proposals which will retain the gasholders, and would be very happy to work with SGN and Fife Council to discuss options for the site."