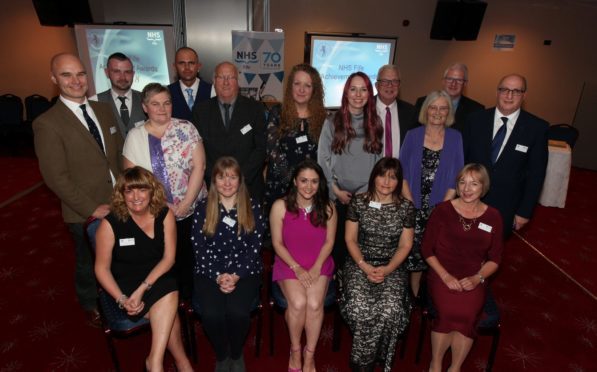 The hard work and dedication of NHS Fife staff has been celebrated at a special awards ceremony.
More than 100 people attended the 2018 NHS Fife achievement awards, held in partnership with Unison Fife Health Branch and the Royal College of Nursing, applauding the unsung heroes across the kingdom.
The awards have become an important event in the NHS Fife calendar, with a record number of nominations received from across the organisation this year.
Individuals and teams were recognised in 10 award categories including, young achiever, support services, unsung hero, doctor, allied health professional and nursing and midwifery.
In addition, a new award was launched – the outstanding member of staff award.
Voted for by staff across NHS Fife, it was won by Arlene Higgins, a ward clerk in maternity. She said she was humbled, shocked and surprised.
As part of the evening, finalists were also treated to a performance by the NHS Fife staff choir, Healthy Harmonies, who sang a medley of songs taken from their successful show at the recent Edinburgh Fringe.
NHS Fife chairperson Tricia Marwick said: "The NHS Fife achievement awards are a great opportunity to celebrate the outstanding work and commitment of our staff.
"We are lucky to have so much talent in departments across Fife and it is humbling to hear the extraordinary lengths our staff will go to, to deliver the very best services and care.
"Although not everyone can win an award, we are justly proud to have such dedicated, innovative and hardworking staff, here in Fife."
The full list of award winners:
Young achiever – student pharmacy technician Jenna McCartney; volunteer – Heart Buddies; support services – senior biomedical scientist Lisa Logan; hotel services – porter Irene Rae; Allied Health professional – advanced occupational therapist Marianne Macleod; nursing and midwifery – intensive care unit charge nurse Colette Ross; primary care – senior prescribing support nurse Mary Thomson; doctor – intensive care unit consultant Dr Gavin Simpson; unsung hero – Howe of Fife Medical Practice's Dr Paul Cunningham; top team – the microbiology and emergency care team; outstanding member of staff – ward clerk Arlene Higgins.